'Fear the Walking Dead': Morgan's Help Squad Takes a Deadly Detour (RECAP)
[WARNING: The following contains MAJOR spoilers for Fear The Walking Dead Season 5 episode 15, "Channel 5."]
What is it with bridges and Walking Dead shows?
Anyone who remembers Rick Grimes' final episode will see some striking similarities in this week's installment of Fear, which finds the survivors stuck in a precarious position on a collapsing bridge. Their journey takes them to a familiar destination… and they're forced to make a difficult choice that goes against their shared morals.
Saving Grace
After a brief clip that shows Virginia talking and explaining her settlement's rules in the same movie format as Morgan (Lennie James)'s group once did, the episode opens with the survivors explaining that they decided to film their journey again to show Virginia (Colby Minifie) why "she lost." Quickly, a few things are established. The group has been traveling for days, and they're all tired. Alicia (Alycia Debnam-Carey) has kept painting trees. Janis is Tom's sister (how convenient!). Morgan still hasn't talked to Grace (Karen David).
That last point becomes of great importance for the rest of the episode. As Grace's health fails for utterly mysterious reasons, the group opts to take a detour to their destination in order to get her some fluids. They're successful in that mission and Grace starts feeling better, but the new route leads them to an unstable bridge.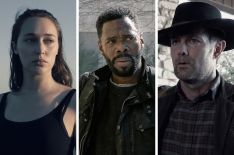 See Also
If Dwight and Morgan can make it to Texas, why can't these characters find their way to Virginia?
Give Us a Holler
They struggle to come up with a way to cross, and as they contemplate their next move and try to patch the bridge, Virginia and a few of her followers pull up in a car. She offers them her help, but when they refuse, she opts to actively work against them by ordering her men to fire a few gunshots. There's a horde in the area, and if Morgan's group won't accept her help now, she figures she can wait them out and get them to subject to her will after the dead arrive. "When you need help, give us a holler," she says.
No hollering is done. Instead of asking for her help, Morgan and his pals abandon their vehicles and supplies to cross the bridge while he, Al (Maggie Grace) and a few others fight the dead. Almost everyone makes it across, but Tom, dedicated to his mission of filming their journey, lingers too long on the bridge and is killed when it collapses. (Shockingly, his camera is fine.)
If You're Listening
The rest of the help squad regroups on the other side, and they head for another Humbug's Gulch—the same franchise that used to employ John (Garret Dillahunt). It's a long, tough journey, but they make it… only to find the place overrun by walkers. Strand (Colman Domingo) then suggests what might be their only hope for survival: reaching out to Virginia. Al stops filming, and an exhausted Strand snaps. "What?" he says. "You didn't want to show things the way they really are, now, do you?"
Morgan asks the group to give him another option, but no one does. Resigned to their fate, he prepares to radio his enemy. Before he can, Dwight (Austin Amelio) makes a hasty exit. "I've walked further than this before," he says, reassuring Morgan he'll find safety.
And with that, Morgan picks up his radio and says, "Virginia, if you're listening, we need your help."
Other Observations
In case anyone was wondering, the word "help" was said nine times in the first two and a half minutes of this episode. Nine. Times.
Why the heck wouldn't Morgan and his group try to clear Humbug's Gulch? If Rick and his group could clear the prison yard way back in Season 3, the help squad could've cleared that.
It's impossible to believe Tom wouldn't have run to safety after surviving the first collapse. Seriously. Why, why, why would he keep filming when everyone had already crossed, and after he almost died once?
See Also
They're not bad guys. They're not good guys. But they're always fun to watch.
I wish Althea had a purpose beyond filming everything because she "has to tell the story." Maggie Grace is a great actress, and she deserves more to work with. But then again, so does Colman Domingo, and Strand's had precious little to do this season. And so does Alycia Debnam-Carey, whose once-formidable leader and survivor has been stuck either being terrified of walkers or painting trees.
Episode 15 of the main show was the "heads on pikes" installment. It was brutal, unflinching, controversial and brilliant. In comparison, this falls flat. Sure, it's interesting that the group will be joining Virginia (maybe. I wouldn't be shocked if they manage to convert her, too). But where's the action? Where's the character development?
Fear the Walking Dead, Sundays, 9/8c, AMC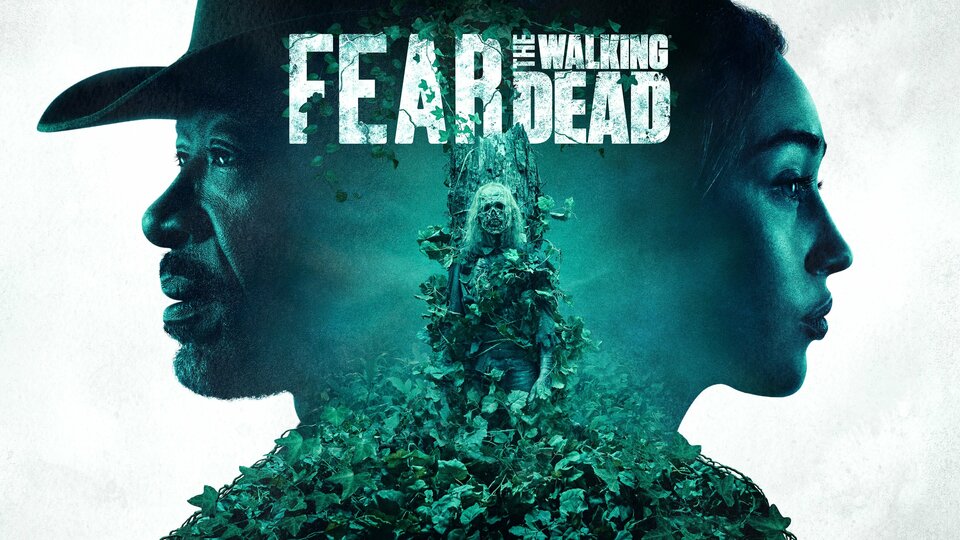 Powered by