'Fear The Walking Dead' Cast and Producers on Season 2 Hints, Crossover Talk… and a Musical Episode?
Zombies can't swim—but they can wade, float or sink.
"But they don't drown," said Fear the Walking Dead executive producer Gale Ann Hurd. "They float back up."
Season 1 of Fear ended last year with the show's characters preparing to hop on a luxury yacht and set sail away from a zombie-ravaged Southern California. But as the show heads to sea for a second season on April 10, it turns out that's not the perfect solution it sounds like.
That was the hot topic of conversation Saturday at the Paley Center's annual PaleyFest, as the cast of producers of Fear the Walking Dead shared info about the new season in front of fans at Hollywood's Dolby Theater.
The panel, moderated by TV Guide Magazine's Rob Moynihan, began with a discussion about the show's move to the ocean.
"There are a nice amount of people who have told all of us [on The Walking Dead], why didn't [survivors escaping zombies] go to the water?" said Hurd. "It's clearly safe there! But if you saw [Fear the Walking Dead's key art] tag line, 'No Safe Harbor,' maybe not so much."
Here are a few more things we learned from the Fear team:
1. Where are they going? Although there's some talk in sneak peek scenes about a move to San Diego, executive producer Dave Erickson said the real goal is to "find a place to drop anchor and stay."
Because the vessel they're sailing has range, they might be heading to Hawaii or Vancouver. "What scares me is being stuck in the middle of the ocean surrounded by nothing," Erickson said. The characters will soon find out that they were not the only people who had the idea of going off land, he hinted.
RELATED: Erickson Reveals Key Plot Points for Season 2
2. Who is Victor Strand? The mysterious wealthy character, played by Colman Domingo, owns the yacht that the group escapes on. "He's an enigma wrapped in a riddle wrapped in cash," Domingo joked.
The actor wasn't given much information when he signed on for the role. "I was told I was a mysterious man, with an intriguing backstory that they'll start to reveal. He's such a wordsmith, he uses language to build up a person or decimate someone."
Added Erickson: "Strand provides wonderful tension. We don't know what his agenda is. We will learn more about Victor Strand."
3. Fear will continue to unfold at a slow pace. According to Alycia Debnam-Carey, who plays Alicia, the cast has already shot the first half of Season 2, "which happens in a small amount of time.
4. Nick (Frank Dillane) will finally get a change of clothes. "Much to my disappointment," Dillane said.
5. Don't expect a romance between Christopher (Lorenzo James Henrie) and Alicia. The two aren't biologically related but are now part of a blended family. "He looks at her if it's his stepsister," Henrie said. "It's kind of weird if it's anymore than that. How do you find love in that little world? You have to survive. It would be weird."
6. Ruben Blades, who plays Daniel Salazar, sums up the difference between Seasons 1 and 2: "The first season was about discovery; the second season is about reaction. Everybody understands some of the things that were not clear before."
7. Unlike The Walking Dead, which famously has cast dinners whenever another character is killed, there's no big goodbye for departing Fear the Walking Dead stars. "The most you get on this show is a text," joked Cliff Curtis (Travis).
8. With accomplished musician Blades in the cast, would Fear ever consider a musical episode? Erickson said no, but Blades has an idea: Zombies singing "The Lady Is a Tramp."
9. What about a Walking Dead/Fear the Walking Dead crossover? "That's the one straight answer I can give you—no," Erickson said. "Finding a way to do it would be difficult."
Curtis has an idea though: "I think Strand has a Learjet somewhere and he could pop over."
10. Ruben Blades' advice for the apocalypse: "Bring toilet paper."
Fear the Walking Dead returns Sunday, April 10 at 9/8c on AMC.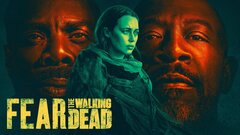 Powered by