Melissa McCarthy Doesn't Expect to be Part of Netflix's 'Gilmore Girls' Revival "I don't think I am," she told E! while promoting her new film The Boss. "I didn't actually get asked to do it. But I think they thought I was busy, and then by the time it did come up, then I actually was." McCarthy added that she was "actually thrilled that it's happening."
Johnny Galecki revealed at Paleyfest that he approached the Taxi alum at the taping of NBC's all-star tribute to James Burrows, and asked: "Would you have any interest in playing my dad on the show?"
How accurate was this week's People v. O.J. Simpson episode?
Fox says the Batman prequel is doing well in the ratings, averaging nine million viewers.
The comedic actor is joining the Ugly Betty alum on the untitled comedy pilot, playing a retired football player who is adapting to becoming the stepfather to two new stepsons. PLUS: Minnie Driver joins ABC's Speechless.
Two people are suing, claiming they approached Wahlberg and Johnson with the idea that would eventually become HBO's Ballers in 2008.
The Dancing with the Stars co-host addressed her lawsuit victory for the first time, thanking her fans during a visit with Kimmel.
One scene in particular seemed overwhelming.
For the first time in nearly a year, Corden took his show to a random house in Hollywood. This time it was Natalie's house, where they (again) played hide and seek.
The Tonight Show bandleader called his father Lee Andrews, a soul singer with the R&B group Lee Andrews & the Hearts, "the greatest teacher in my life." Andrews was 79.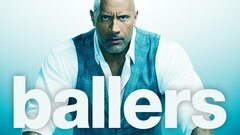 Ballers
where to stream