'The Big Bang Theory' Casts Judd Hirsch as Leonard's Father
The Big Bang Theory family is getting even bigger.
The cast and producers of the CBS comedy gathered at PaleyFest in Hollywood on Wednesday night to discuss the sitcom's ninth season—including last month's milestone 200th episode—as well as reveal some tidbits about the remaining episodes. Showrunner Steve Molaro announced viewers will be meeting Leonard's father this season, played by Taxi vet Judd Hirsch.
The casting was born out of an encounter between Hirsch and Johnny Galecki earlier this year at the taping of NBC's All-Star Tribute to James Burrows. "When we were shooting the [Big Bang Theory] pilot, I re-watched the first two or three seasons [of Taxi] not because I wanted to base Leonard on his character, but because of the purpose Leonard served as an anchor to this group of people," Galecki told the crowd. "A lightning bolt struck and I said, 'Would you have any interest in playing my dad on the show?' It may have been a little presumptuous of me because nothing was written, but it just kind of went from there."
Hirsch's addition is the latest in a growing number of Big Bang Theory guest stars this season, which included original Batman Adam West during the 200th episode. "I cried when I met him," said Mayim Bialik (Amy Farrah Fowler). "That was the Batman of my youth standing in front of me. He sounds exactly like him! Everything triggered enough in my psyche of the Batman of my childhood."
The ninth season has also featured a handful of major character developments, including Amy and Sheldon (Jim Parsons) having sex for the first time, something Parsons is eager to explore again in the near future. "I never thought Sheldon would have sex on this show, but it felt very right," Parsons said. "I discovered a new way of conversing with an actor on this series, which was pillow talk. I can't wait to be back in bed again."
The Big Bang Theory airs Thursdays at 8/7c on CBS.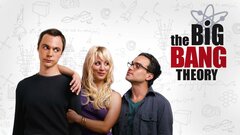 Powered by