'Teen Titans Go!' Producer on 'Third Wheel' Bumblebee Joining the Team
Here's the latest buzz: The Titans welcomed a potential sixth member in Season 5 of their popular animated kids show, Teen Titans Go!, and she's definitely stirring things up.
So, will Bumblebee (voiced by Ozioma Akagha) be accepted with open wings, er, arms? Or will she face the bitter sting of being snubbed?
"She's kind of a third wheel, and the Titans are a lovable bunch of jerks," producer Peter Michail jokes. "It was fun for us telling the story of how awkward it is to come into this tight-knit team. When she comes back to the Tower, they flat out tell her, 'Hopefully you're going to be able to deal with us, because we're monster roommates.'"
Don't be surprised to see the shy Bumblebee come out of her shell, though, and prove that she deserves a spot on this crime-fighting team alongside Robin (Scott Menville), Cyborg (Khary Payton), Starfire (Hynden Walch), Raven (Tara Strong), and Beast Boy (Greg Cipes). (Hey, maybe singing about waffles would do the trick?)
Ultimately, whether Bumblebee stays or flies away may be determined by the show's hive of fans when the season culminates with the aptly titled finale "Viewers Decide." But Michail hints that only one vote will truly matter: "Bumblebee might end up taking her fate into her own hands."
That's one way to prove she is the queen bee.
Teen Titans Go!, Mondays, 6/5c, Cartoon Network
For more exclusive content from your favorite shows like Arrow, Supergirl, and more, pick up TV Guide Magazine's Special Comic-Con Issue, on sale now. It's an all-access SUPERFAN guide with 88 pages of behind-the scenes photos, scoops, and interviews.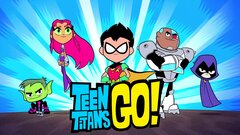 Powered by