'Fresh Off the Boat': Is Takeout Service Finally Happening? (VIDEO)
Everyone knows a successful business means building—and expanding—the brand, and that's exactly what Louis (Randall Park) has in mind on the latest Fresh Off the Boat episode.
After refining a full dine-in service at Cattleman's Ranch Steakhouse, Louis finally decides to lasso in some extra cash by launching a takeout service. But rather than announcing the news in a big and clear way to his employees, Louis decides to reveal it though a prank call to Mitch (Paul Scheer).
PHOTOS: See How Fresh Off the Boat Celebrated Chinese New Year
Watch an exclusive clip of the ep, "Tight Two," below to see the "Cattleman's" approach to sharing his latest business model. Also in the episode, Jessica (Constance Wu) will struggle to manage the new service.
[jwplatform 2Api3eJF]
Fresh Off the Boat, Tuesdays, 8/7c, ABC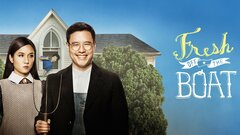 Powered by