What's Worth Watching: 'Elementary', 'The Passion', 'The Walking Dead' and more for Sunday, March 20
Elementary (10/9c, CBS): Fans of this clever contemporary twist on Sherlock Holmes are understandably fretful that CBS has relocated the show (making room for a tryout of Rush Hour on Thursday) for the remainder of the spring to this often unfriendly time period. On their first Sunday outing, Sherlock (Jonny Lee Miller) and Watson (Lucy Liu) seek the true identity of a murdered vigilante who fought crime in a superhero costume. And Morland (John Noble) is still up to his manipulative ways, donating to one of Watson's favorite charities to get her to do his bidding.
The Passion (8/7c, Fox): Getting Holy Week off to a noisy start on Palm Sunday, this unusually ambitious live production is part Passion Play, part concert event, with New Orleans as a magnificent backdrop for the story of Jesus's last days, with the Last Supper, crucifixion and resurrection re-enacted through popular song. The cast includes Jencarlos Canela (Telenovela) as Jesus, Trisha Yearwood as Mary, Chris Daughtry as Judas, and Tyler Perry as host-narrator. All are praying for good weather.
The Walking Dead (9/8c, AMC): After last week's brutal encounter with Negan acolytes, you'd think our heroes might cool their heels before venturing outside Alexandria again. But supply runs are necessary for survival, so two groups head out on separate missions, facing grave danger as usual.
Inside Sunday TV: NBC's Little Big Shots (8/7c, with a repeat preceding at 7/6c) is an instant big hit, already renewed for a second season. This week, Steve Harvey mixes it up with a miniature auctioneer and a lovable 3-year-old ninja warrior, among others. … A storm raging outside has nothing on the turmoil inside the house in NBC's The Carmichael Show (9/8c), when Jarrod (Jerrod Carmichael) and Maxine (Amber Stevens West) take shelter in his parents' home, where it slips that they're dealing with a pregnancy scare. … Will no one give Alicia (Julianna Margulies) and Jason (Jeffrey Dean Morgan) the peace and quiet they deserve to carry on their torrid trysts on CBS's The Good Wife (9/8c)? This time it's daughter Grace (Makenzie Vega) who intervenes, when she's accused of plagiarizing her college entrance essay. Kids!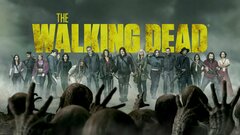 Powered by