What's Worth Watching: 'Pee-wee's Big Holiday', 'Daredevil' and more for Friday, March 18 and Saturday, March 19
Pee-wee's Big Holiday (Friday, Netflix): I know you are, but what is he? He's the lovable Pee-wee Herman, of course, Paul Reubens' indelibly impish Id of a cult hero. He's back in a new feature-length odyssey of whimsy (co-produced by Judd Apatow) in which "the sweetest boy in Fairville" is inspired by an encounter with a mysterious stranger (True Blood's Joe Manganiello) to take his first-ever cross-country holiday, endearing himself with Amish and snake farmers and other exotic locals. Just a thought: Pee-wee for president?
Marvel's Daredevil (Friday, Netflix): The inexhaustible streaming service offers us a second season of this dark thriller set in a truly hellish Hell's Kitchen, where blind superhero Matt Murdock/Daredevil (Charlie Cox) faces a deadly new vigilante: Iraq war vet Frank Castle aka the Punisher (The Walking Dead's Jon Bernthal). Matt's deeply ingrained moral code (thou shalt not kill) will be tested like never before.
Mommy's Little Girl (Saturday, 8/7c, Lifetime): Guilty pleasure alert! The latest twist on the Bad Seed scenario involves poor damaged 10-year-old Sadie, who was left by her mom to be raised in isolation by an abusive grandma. Now that her mom has taken her back, little Sadie goes overboard protecting her new family way of life.
Inside Weekend TV: Reba McEntire guests on ABC's Last Man Standing (Friday, 8/7c) as Mike's (Tim Allen) rock-climbing ex. … It's a Community reunion on ABC's Dr. Ken (Friday, 8:30/7:30c) when Ken's (Ken Jeong) gig as an expert witness in a trial is shattered by the harsh interrogation of the opposing lawyer (Jim Rash, aka Dean Pelton). … Oprah Winfrey reunites with the author of her very first Oprah's Book Club selection, Jacqueline Mitchard (The Deep End of the Ocean), on OWN's Oprah: Where Are They Now? (Saturday, 10/9c). Mitchard discusses her new book, but also a painful chapter in her past when she lost her fortune in a Ponzi scheme. Other guests include Naomi Judd, fleeting '90s pop star Gerardo ("Rico Suave") and TV chef Carla Hall.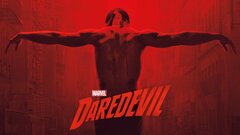 Powered by