'American Dad' Finally Reaches Its 200th Episode (PHOTO)
American Dad's road to 200 episodes was a bit winding—the series migrated from Fox to TBS in 2014—but the animated comedy celebrates the milestone with its March 28 episode.
"Making it to 200 is pretty mind-blowing," executive producer Matt Weitzman admits. "When we got to 100, it was, like, 'Ah, we did it.' Now at 200 it's, like, 'Uh… what did we do?' It's especially satisfying because at the start many people didn't give us much of a chance…Mom? Just kidding—she thought it was 50/50. She's a realist."
"I think I speak for our fans as well as everyone who's been involved with American Dad throughout the years when I say with much gratitude, 'It's f–king cool.'"
PHOTO: See How Betty White Sparkled on SpongeBob
In the inspired installment, it's the end of the world as we know it, and a heavily tattooed Stan is trying to navigate his post-apocalyptic surroundings. "The idea began as a simple story of Stan meeting someone with a tattoo and thinking about getting one himself," Weitzman recalls. "That naturally led to a story about the apocalypse and Stan wandering through what's left of civilization as the illustrated man, covered in tattoos and using them to remember who he is and what's important."
Along the way, Stan encounters Roger, and the duo set out to find the rest of the family—though this is a very different Roger than the ones fans are used to. "Roger refuses to play characters anymore, what with the state of the world," Weitzman teases. "He's just a regular guy…whose name is Clifton."
"The show has never shied away from epic stories and this one is right up there," he continues. "And if there's ever an opportunity to overwork our artists, we'll take it!"
American Dad airs Mondays at 8:30/7:30c on TBS.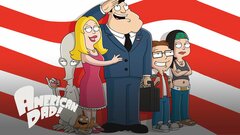 Powered by