BD Wong Gets (Hugo) Strange for Fox's 'Gotham'
Now that the villains have risen on Gotham, their wrath is off the chain. Not only is Nathan Darrow's Mr. Freeze running amok, Jim Gordon and the GCPD may soon also have to deal with BD Wong's Hugo Strange, the mad scientist running all sorts of twisted experiments at Arkham Asylum. Tonight, the bespectacled baddie steps up his seriously unethical work with new patient Penguin (Robin Lord Taylor), and according to the Wong, Strange's Tony-winning portrayer, we have yet to see the worst of Strange's sadistic side.
How is this Hugo Strange compared to the comic-book version?
This Hugo is really linked to that version in some specific ways. There are elements of his look that we used, we adapted his bald head, round specs and weird jawline beard onto me in a way that's pretty cool. Gotham's Hugo Strange is really severe looking, like the comic version, but more refined. He's younger, not as imposing physically and he's always dressed to the nines. In the comic, his clothes were never this fantastic. I'm wearing at least four custom three-piece suits made by Martin Greenfield [Clothiers] that are to die-for and neckties tied in this crazy knot…everybody is going to want to try and figure out how to [do it].
How is he different?
Well, let's just get right to the point: There's no pretending I'm not Asian-American! [Laughs] I don't have to, 'cause it's 2016. That's one of the great things about Gotham. It takes a familiar story from the world of comics, a world that was almost entirely white until rather recently, and allows it to exist in a way that relates to the world we actually live in, a world where both the heroes and the villains come in all colors and genders. This is not a small thing. This kind of sea change only can occur when producers are fully committed to diversity.
What is Strange up to at Arkham Asylum that is so bad that the GCPD would need to get involved?
There's only one way to find out the answer to that question, and it's not gonna be by reading this! But I will say this is a well-asked question, because what Professor Strange is doing in there is indeed very, very bad.
And how has it been, working with this cast?
I love this job. I love the actors, the designers, the crew, the producers and the way the production is run. I work very closely alongside Tonya Pinkins, a Tony-winning actor [currently seen in Hulu's 11.22.63] whom I admire who plays Ms. Peabody, Strange's associate, and we have loads of fun. I've also had wicked fun in my scenes with Robin [Lord Taylor], Erin [Richards] and Nathan Darrow, who plays Mr. Freeze. As of this interview I have not yet gotten in deep with the actors playing Gordon, Bullock, Bruce and Alfred, but I think that's coming and it'll be well worth waiting for.
Gotham: Wrath of the Villains airs Mondays, 8/7c on Fox.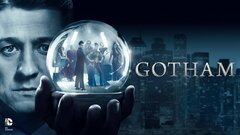 Gotham
where to stream
Powered by