Watch Trailers for Freeform's New Series — Plus, 'Siren' Renewed for Season 3 (VIDEO)
As upfront week continues, the combined Walt Disney Television upfront brought plenty of news and early peeks at upcoming series on its Freeform cable channel.
First up, Siren, the mermaid thriller that returns for the second half of season 2 on June 13 (8/7c) has been picked up for a third season. During the first half of its second season, the drama ranked as Freeform's No. 1 show among Adults 18-49 and Women 18-49. The series stars Eline Powell, Alex Roe, Fola Evans-Akingbola, Ian Verdun and Rena Owen. "Siren" is executive produced by Eric Wald and Emily Whitesell, who serves as showrunner.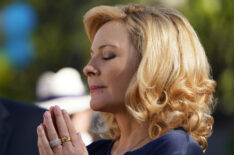 See Also
Plus, check out the fall schedule which features 'Empire' and 'The Resident' on new nights.
In other upfront news, the network will begin airing reruns from all 30 seasons of The Simpsons. The network will also increase their commitment to Halloween and will be making this year's "31 Nights of Halloween" programming stunt even bigger with the following programming additions including a new special, Halloween Extravaganza Bash, which will celebrate Halloween's biggest pop culture moments. Freeform will also break its own record of the number of times one network can air the film Hocus Pocus in a programming stunt with a record for 27 broadcasts of the cult classic.
Also, the network released trailers for several new series coming later in 2019. First up is Motherland: Fort Salem. Set in an alternate America where witches ended their persecution over 300 years ago by cutting a deal with the government to fight for their country, the series follows three young women from basic training in combat magic into early deployment. In this world, the traditional roles of gender and power are flipped, with the more dominant women on the front lines fighting looming terrorist threats that are familiar to our world—but with supernatural tactics and weapons. The series stars Ashley Nicole Williams, Jessica Sutton, Taylor Hickson, Demetria McKinney and Amalia Holm. Here's the trailer for Motherland: Fort Salem:
Party ofFive, a reboot of the beloved series that ran on Fox from 1994-2000, follow the five Acosta children as they navigate daily life struggles to survive as a family unit after their parents are suddenly deported back to Mexico. The series stars Brandon Larracuente, Emily Tosta, Niko Guardado and Elle Paris Legaspi. The series, like the original, is created by Chris Keyser and Amy Lippman, who also serve as executive producers and writers. Here's the trailer for Party of Five:
From Please Like Me creator, writer and star Josh Thomas stars in Everything's Gonna Be Okay. The series introduces Nicholas (Thomas), a neurotic 25-year-old visiting his single dad and two teenage half-sisters, one of whom is on the autism spectrum. He hasn't been particularly present in his siblings' lives, but when their dad reveals that he is terminally ill, the girls have to cope with not only a devastating loss but also the realization that Nicholas is the one who will have to rise to the occasion, move in and hold it all together. Here is the trailer for Everything's Gonna Be Okay: