Jordana Brewster Joins 'Lethal Weapon' Fox Pilot
Jordana Brewster is joining another popular franchise: Fox's take on Lethal Weapon.
Brewster—who can be seen on FX's American Crime Story and the upcoming ABC drama, Secrets and Lies—is best known for her roles in the The Fast and the Furious franchise and the TNT Dallas revival. In Lethal Weapon, she'll play an original character to the Fox adaptation, Dr. Maureen "Mo" Cahill. Mo's a no-nonsense LAPD hostage negotiator/in-house therapist who is essential to helping cops cope with their trauma…though some are more difficult to deal with than others.
Damon Wayans Sr. previously signed on to play Roger Murtaugh and Golden Brooks will play Trish Murtaugh. (The roles were played by Danny Glover and Darlene Love in the films.)
The drama's pilot was penned by Forever creator Matt Miller, based on the film franchise starring Glover and Mel Gibson. McG, who worked with Miller on Human Target, will direct the pilot and executive produce the series.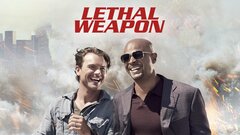 Powered by