Jeremy Roenick to Guest Star on 'Bones'
Jeremy Roenick will guest star on an upcoming episode of Fox's Bones, TVInsider has learned exclusively.
Roenick, who spent 18 years in the NHL and was a nine-time All Star, will play himself in the 19th hour of the season. "We're doing a hockey episode that hopefully we'll be able to run before the hockey playoffs are done," says Bones executive producer Jonathan Collier. The Fox drama—which was renewed for a shortened final season—has been off the air since late 2015, and will return with the second half of Season 11 on Thursday, April 14.
Bones star David Boreanaz (Booth) is a vocal lover of sports, and Roenick was on Boreanaz's beloved Philadelphia Flyers from 2001-2005. (Roenick also played for the Chicago Blackhawks, Phoenix Coyotes, Los Angeles Kings and San Jose Sharks.)
Related: 9 Things We Want to See on Bones Before It Ends
The idea of putting hockey storylines into the long-running show was "99.9999999 percent" inspired by Boreanaz's love of the sport, executive producer Michael Peterson says. "There's two hockey [episodes] coming up," he says. In addition to Episode 19, where the game is tied into the main story, another episode has a subplot "where Booth believes Brennan is a jinx—every time she watches the Flyers, they lose. So, obviously, the superstitious versus the scientific…that was a lot of fun."
Roenick has popped up on various television shows over the years: He counts NBC's Go On, HBO's Arli$$, TNT's Leverage and CBS' Ghost Whisperer among his scripted credits.
Bones returns Thursday, April 14 at 8/7c on Fox.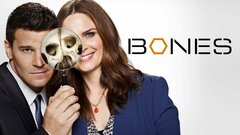 Bones
where to stream
Powered by