'Suits': Meghan Markle on THAT Heartbreaking Moment Between Mike and Rachel
Spoiler alert! If you haven't watched Wednesday's Suits season finale, then head to another story before Anita Gibbs sets her sights on you.
Looks like Suits' Mike (Patrick J. Adams) will be trading his titular threads for a closet full of orange jumpsuits. The Season 5 finale of the USA drama saw the faux lawyer choose not to wait for the jury's verdict—which turned out to be "Not Guilty"—before cutting a deal with prosecutor Anita Gibbs (24's Leslie Hope) to serve two years in prison.
After processing her fiancé's decision, Rachel (Meghan Markle) suggested they move up the wedding to get married before Mike goes to jail. This caused Rachel's dad, Robert (Wendell Pierce), to share his objections, but she simply stood by Mike and disinvited Robert from the wedding. But after learning the jury's true verdict from Harvey (Gabriel Macht), Mike shared it with Rachel to avoid starting their marriage with another secret. Instead of getting upset, Rachel admitted that she believe he was already free, and that she still wanted to get married.
Sadly, the couple never made it down the aisle. When Mike saw Rachel's parents—whom Jessica (Gina Torres) convinced to attend—he realized that he didn't want to "ruin" Rachel's life. Tearfully, he explained why he changed his mind before leaving the church with Harvey.
With Rachel dealing with so much in the season's final hour, we caught up with Meghan Markle to discuss the paralegal-turned-law student's biggest moments.
A lot happened in the finale. What surprised you the most?
We had a lot of changes throughout the last week of filming. Scenes were added (the love scene), and scenes were changed (the wedding). I think the largest shock for me was what a finite ending it was—not a cliffhanger, as we are accustomed to seeing, but a massive game change.
What do you think was the hardest thing for Rachel to deal with: Mike choosing to take the deal, or finding out that the verdict was "Not Guilty"?
That's a dead heat because her world is spinning in both moments. The fact that he takes the deal is a betrayal to what he told her he would do, and given that she is standing by him (despite her father's opinion or her fear for their future), she is crushed by that.
Rachel wanted to move up the wedding. Had she really processed and come to terms with Mike's decision, regardless of the verdict?
I think she came to terms with that independent of the verdict. She is so deeply in love with this man, and they have been through everything together, so I think it's a reflection of Rachel's loyalty to Mike—locked up or not.
When Mike told her that the verdict was going to be "Not Guilty," Rachel said he was already out in her mind. Talk me through what she's feeling there.
That was a very hard scene to film because she can intellectualize the moment, and it's so muddled with how her heart feels. Rachel is a smart girl—she knows the challenges their relationship will endure if he is put away, so just as she is playing out this fairy tale wedding she has waited all of her life for, she is also playing out this fairy tale of Mike being a free man.
Standing up to her father and telling him not to come to the wedding was such a big moment for Rachel. How was that for you to play?
Wendell and I struggled with that scene a bit, but we found the rhythm. Were they yelling? Was it numb from the pain? Was it a head to head? We played every version of it, and with the direction from director Anton Cropper, we found our rhythm. For me, personally, I have just been thrilled to have so much more to do as an actor in the past few episodes—I especially like when Rachel stands her ground.
What did having her parents at her wedding after that fight with her dad mean to Rachel?
The world.
When Mike told Rachel that he couldn't go through with the wedding, what was going through her mind?
That was a scene that was not originally scripted that way, and I shared my concerns with Aaron after the original draft came out. I think it has to end that way—and though it's painful, it's a testament to how much Mike loves her. He loves her so much, that he is letting her go. And she loves him so much that she would never do it. So he does it for her. Obviously they are still together, but it's an act of grace—him putting her needs and her life over his fate.
Suits has been renewed for sixth season.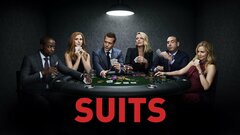 Suits
where to stream
Powered by