High-Stakes Hunt for Crab: 'Deadliest Catch' Returns for Milestone Season 15 on Discovery
Discovery's Deadliest Catch welcomes you to Dutch Harbor, Alaska, for its 15th season on Tuesday, April 9.
New to the fleet is the cutthroat, no-nonsense Captain Steve "Harley" Davidson with the 148-foot-long Southern Wind. The boat is the second-largest in the fleet, behind only Captain Keith Colburn's boat The Wizard. Harley, who has captained the Southern Wind for 15 years, doesn't make friends easily — including Captain Keith, who considers Harley as enemy No. 1.
This season, Harley was able to break out ahead of others to look for crab. After scouring the grounds with over 1,200 pots, he believes that a quarter billion dollars-worth of crab are clustered in a single massive horde. If he's right, every captain in the fleet will be on top of him, turning the high-stakes hunt for crab into a close-quarters battleground.
On the legendary Northwestern, Captain Sig has been preparing 23-year-old Maritime Academy alumna and daughter, Mandy Hansen, to be his relief skipper. But how will she stack up in a season of competitive close-quarters fishing?
With massive boat payments due, Captain Wild Bill has his work cut out for him on the F/V Summer Bay. With two untested greenhorns and a furry little dog named Rico, the veteran skipper has a lot to keep his eye on. It's not long before things take an unexpected turn when one of Bill's newbies suddenly disappears at sea.
All eyes are on captains Josh Harris, Casey McManus and their fabled Cornelia Marie. Last season, Josh gained notoriety by skirting a series of close calls while filling the boat at a breakneck pace.
It's an all-out battle this season as the captains attempt to catch their plunder. But as tensions rise, the temperatures continue to drop. With the weather colder than it has ever been in over half a decade, parts of the Bering Sea are beginning to freeze over, along with the boats in it.
Deadliest Catch, Season Premiere, Tuesday, April 9, 9/8c, Discovery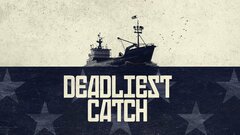 Powered by