'Marvel's Agent Carter': James D'Arcy on Jarvis's Backbone and His 'Fierce' Love for Ana
The pressure is on for Marvel's Agent Carter as it nears the end of the season. And following the end of last week's episode—which saw Whitney Frost (Wyn Everett) shoot Ana Jarvis (Lotte Verbeek) point blank—Edwin Jarvis (James D'Arcy) is in for a tough time too, especially as his wife's survival remains up in the air.
But it's not all doom and gloom for Howard Stark's dutiful butler, who will get to hit a lighter note with the song-and-dance-filled dream sequence that kicks off the second of tonight's two episodes. "These next two episodes take a somewhat surreal turn for a moment," says D'Arcy of the "bonkers" dream sequence coming up. "There's a few little surprises in there… Maybe you'll get to see [Jarvis dance]."
With the race for Zero Matter getting more desperate and Edwin Jarvis now in his darkest hour, we spoke to D'Arcy about how he's coping with what happened to Ana, and why fans love that relationship so much.
Ana got shot at the end of last week's episode. How is Jarvis coping with that?
Pretty badly at the end of the last episode. He did not seem to be at a good place. We're all pretty clear on just how much he loves his wife. That love does not diminish over the course of the next two episodes. Let's put it like that.
They've been trying to stop Whitney Frost all season. How will knowing that she specifically shot Ana affect him?
I wish I knew how to tease it without giving everything away… Let's just bear in mind that Jarvis works in the nature of war. And as much as he delights in the ludicrous things that Howard (Dominic Cooper) has him do, there may be some backbone to Jarvis.
Fans were really eager to meet Ana. What do you think it is about their relationship that people love so much?
It's just very open and loving and real. [Ana and Jarvis] don't treat each other terribly. They look out for each other. They're kind to each other. They look at each other really nicely. They care about each other. It's what you want in a relationship really. Like we've all seen, it's not just in a sentimental way. They have real heart, which can be fierce.
It's funny because we only saw his half of the relationship in the first season. How has having Ana interacting with Jarvis been for you to play?
When we were doing Season 1, I did keep up that it was going to be a bit like Niles' wife on Frasier, where we just never ever met her. I think the writers responded to the fact that the fans got really interested in who she was. We really couldn't have done better than casting Lotte to play that role. She's just wonderful at it. We lucked out, and she just came in and ate it up. She was just terrific playing that part. And not quite what you would expect from Ana, but that's great.
RELATED: Agent Carter EPs on Whitney's Quest for Power and Peggy's Plan to Take Her Down
We got to see Jarvis in the lab this season and learn that he has a good amount of scientific knowledge. Were you surprised to learn that about him?
No, nothing surprises me about Jarvis, if I'm being honest. I love it when [the writers] come up with weird things and you go, "Oh, right, he's a brilliant scientist as well" Excellent. Love it. I don't know quite how brilliant he is, but he always understands the concept quite quickly, which I think is just right for Jarvis. They just know who he is. They're writing great.
Everyone is getting desperate when it comes to Zero Matter. What can you tease about what's coming up for that?
It's going to get worse before it gets better. You can see it because it's all over Whitney Frost's face—it's getting bigger. What started as a slow burn at the start of the season is now really gathering pace. And in a way that they did in Season 1 they've just done a fantastic job of ramping up the pace and the energy and the temperature of the whole season [to a] very exciting, climactic finish.
You've gotten to do a lot of comedy this season. How has that been for you to play?
I have just absolutely loved doing comedy. I must say, I think the arc of where we're going from here to the end is spectacular and unexpected. I couldn't have been happier with things that the writers gave me to read.
Do you have a favorite joke from this season?
I was particularly pleased with the line, "Jarvelous," which I improvised.
Did you?
Yeah, I'm quite please with myself over that line just because it kind of popped out and I immediately thanked myself. Actually, there's so much of what they wrote that had bits of comedy. Honestly, they're brilliant, brilliant writers. I like when I had to put up a box in the ceiling with my voice and I say, "I don't wish to be a disembodied voice for the rest of time." I thought that was very funny, especially if you're an Iron Man fan.
Marvel's Agent Carter airs Tuesdays at 9/8c on ABC.
[jwplatform G0zRu8Wu]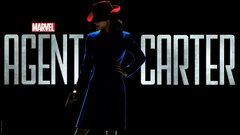 Powered by