First Look: 'Marvel's Agent Carter' Dreams Up a Musical Number (PHOTO)
Marvel's Agent Carter is no stranger to moving quickly, but will she be able to move to a beat?
Next Tuesday's two-hour episode will give viewers a glimpse into Peggy Carter's mind—and if the exclusive images below are anything to go by, it's filled with more song and dance than one would have expected from an SSR super spy.
RELATED: Agent Carter EPs on Whitney's Quest for Power and Peggy's Plan to Take Her Down
As the photos reveal, the dream sequence will feature a mixture of Peggy's friends and enemies—including everyone's favorite waitress-slash-actress Angie Martinelli (guest star Lyndsy Fonseca). And if some of the dancers look familiar, it's because they're actual dancers from ABC's reality show, Dancing With the Stars.
Unfortunately, the musical won't last for very long—Peggy is still working to rescue Dr. Wilkes (Reggie Austin) from Whitney Frost (Wynn Everett), with Jarvis' wife Ana (Lotte Verbeek) still in the hospital and Dottie Underwood (Bridget Regan) still on the loose. Elsewhere in the two-hour episode, Jack Thompson (Chad Michael Murray) will make a surprising move that could destroy everything.
Take a look at Peggy & co. busting a move and then tune in to Marvel's Agent Carter on Tuesday at 9/8c on ABC.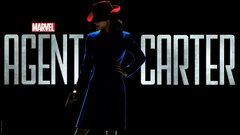 Powered by