Jack Wagner on the 'When Calls the Heart' Christmas Special & If He'd Return to 'General Hospital'
If you've never seen When Calls the Heart, the Hallmark Channel series starring Erin Krakow (as pregnant widow Elizabeth Thornton), set in the coal-mining town of Hope Valley in the early 1900s, you can jump on board by checking out this stand-alone holiday movie titled When Calls the Heart: The Greatest Christmas Blessing set to air on Tuesday, December 25.
The movie also stars familiar faces Jack Wagner (General Hospital, Melrose Place) and Lori Laughlin (Fuller House). In this installment, Elizabeth, who was widowed after her husband Jack (Daniel Lissing) met a premature end, prepares for the birth of her baby. Meanwhile, Abigail Stanton (Loughlin) readies for Christmas while Bill Avery (Wagner) makes a troubling discovery about a group of orphans and their caretakers, who become stranded in Hope Valley on their way to a new orphanage.
TV Insider chatted with Wagner about this holiday special and if he's open to ever reprising his role as Frisco Jones on GH!
Can the non-regular When Calls the Heart viewer jump on with this movie?
Jack Wagner: Yes. It's a stand-alone. People may not know the backstory of the characters and the town's problems, but if they watch this, they can become familiar with everyone pretty quickly. It's why we do this as a separate movie. The series picks up on February 24 when we come back. People can watch this and become more engaged with the characters and the stories.
We'll see Bill attempt to do some baking. Are you good in the kitchen in real-life?
I cook, but I'm not a baker. Bill's trying to repeat his mother's recipe and it turns out funny. This humanizes him. I love when the writers do things like this. Bill's a man with a gun and he's the backbone in terms of law and order in Hope Valley, but we'll see this other side of him that makes mistakes. He's flawed and funny.
Bill and Abigail aren't together romantically these days – how would you describe their relationship?
It's like they're a married couple that's not married. They finish each other's sentences and they know which buttons to push with one another. [Laughs] Abigail always wins! Lori and I work to bring the drama as well as the comedy to these stories. We're telling a story and through our characters there's exposition and laughter.
Is there a possibility of a romantic reunion?
I'm not sure about that. There's always some sort of romantic [possibility] when you have two people, but we just don't go there. Whether it happens in the future or not, I don't know. [Abigail] is the mayor. I'm the sheriff.
Hallmark programming never gets too heavy the way some shows get, but clearly, it's not only working but succeeding. Not every show has to have a dark edge. And there's nothing wrong with a happy or hopeful ending.
That's well put. [Hallmark programming] is less dark. The key to its success is all in the storytelling and in the characters. They come from a place that's relatable. People relate to the Christmas movies because they see people with normal problems. When Calls the Heart combines shows like Little House on the Prairie, Gunsmoke, Bonanza, and I Love Lucy. The series has a combination of elements that people can relate to. It's all about the journey.
What helps you get into the mood for the era that this movie and the series is set?
I get into wardrobe before I go to makeup or to set for blocking. That's unusual. Most actors are in their sweats at this point. I want to be able to feel this character from the moment I get into my dressing room. When I get on stage, I see that there's this incredible downtown set that's been built. I've got [Bill's] gun and my holster. I step right into that reality.
What does Elizabeth giving birth mean for the series?
Her child is our next generation. We're going to our next journey, stepping into new ground. It's setting up the next chapter of the series. We have two new male characters coming on [Lucas Bouchard, played by Chris McNally, and Nathan Grant, played by Kevin McGarry] for Elizabeth as we're going into our sixth season. We're asking ourselves how do we raise the bar?
I believe you didn't overlap but did you know Lori from her days on the ABC soap opera Edge of Night (as Jody Travis) when you were on GH?
No. We actually know each other from the golf course. I see here there as much as I see her at work.
Do you ever entertain a return to General Hospital to reprise Frisco Jones?
I love the people there, but I don't even go there. I don't look at that show [as anything] but a blessing.
When Calls the Heart: The Greatest Christmas Blessing, Tuesday, December 25, 8/7c, Hallmark Channel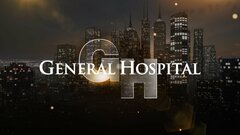 Powered by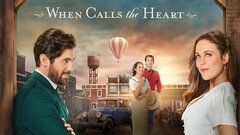 Powered by