Alexa PenaVega on Hallmark's 'Christmas Made to Order,' Holidays at Home & Working with Jonathan Bennett
Looking for some quality holiday programming or a Saturday night movie to put you in the Christmas spirit? Then look no further than Hallmark's upcoming Christmas Made to Order, starring network favorite Alexa PenaVega.
The actress, who has appeared in numerous films for the channel, won't be playing opposite her husband Carlos PenaVega this time, though, as she appears opposite actor Jonathan Bennett (Mean Girls, Cake Wars). PenaVega stars as a holiday decorator named Gretchen; will she be able to spark some seasonal spirit into Bennett's workaholic Steven?
Fans will have to tune in, but until then, TV Insider spoke with the actress about the upcoming film, what it was like working with Bennett, how it compares to her other work for Hallmark and much more.
Tell us a little bit about Gretchen in Christmas Made to Order. What should viewers know about her? How does she compare to past characters you've played?
Alexa PenaVega: I just love how strong Gretchen is. She's a positive, fun person. I would say that it's probably one of my stronger characters that I've played, and it's been really really fun. What I love about this project is she has to really believe in herself before she can go out and pursue this dream of making "Holidays Made to Order" her full-time job.
I think we all kind of battle that in our lives, and for her to just kind of break through all the barriers by the end of the movie and go for the dreams that were put in her heart, I think it's awesome and so uplifting. Who doesn't love a Hallmark Christmas movie that just inspires you?
Fans often see you in Hallmark films with your husband, Carlos. What was it like getting to work with Jonathan Bennett this time around?
Oh, my gosh, Johnny is a riot. The joke on set was, if he was ever not working or in a scene with me, I would text him like, "Wow, it's amazing how peaceful and quiet it is when you're not here," but totally teasing him [Laughs], because he just shows up and he's a bundle of energy. He makes it way more exciting, way more fun. He just amps up that energy, and it's hilarious because we're both talkers.
We love talking, and I remember going into the movie, saying, "Alright, I think I'm gonna have to tell Sam (Irvin) our director that he has to make sure he cuts us off cause Johnny and I will talk and talk and talk." I literally pulled Sam aside, like, listen, "We will keep talking, you cannot be respectful and be afraid to interrupt us, if you don't interrupt us we'll never get this movie made" [Laughs].
Do you take the same approach as Gretchen to the holiday season, going all out with Christmas decorations?
You know, I think I would if we were home more. This is the first time in a while that we're really home for the holidays, and it's been so exciting putting the house together. We did just move into a new home, so we're a little overwhelmed between unpacking boxes and decorating, but the holiday season just feels so good.
I'm that person that would have my Christmas tree up all year round, and just change it for the seasons depending on if it's Valentine's Day — I'll have a Valentine's Day Christmas tree, you know? So, I just love it, but I would have to give props to my husband, who naturally has a designer touch – he just has such a good eye with so many things, so as much as I wanna be great at it, I enjoy it, but he really shines when it comes to decorating [Laughs].
What was this filming experience like compared to your film Love at Sea earlier this year?
You're talking night and day. Love at Sea was such a passion project for us. We are obsessed with cruising, and we've loved Royal Caribbean for so long. Obviously, you know our relationship with Hallmark and our love for Hallmark, so we were able to kind of link those two companies together, and they somehow figured it out.
My prayers have been that we get to do another one cause it was such a blast. But when you get to the Christmas season, it's a whole different experience, because you feel that excitement. This movie we actually filmed in Utah, and it was really cold. We didn't film it in the summer, we just finished like a month ago, so, real cold, real cozy and exciting.
We had such an ensemble because everybody who played Steven's family, they were all on set the whole bunch and… you really felt in that Christmas spirit, just fun teamwork, getting the whole place together and ready it was really great.
You share a scene with TV vet Jo Marie Payton (Family Matters). Did she offer you any advice from her years in the industry?
Oh, my gosh, she is fantastic. I grew up watching Family Matters. Like, who didn't? So she was such a big part of my life, but, oh, my gosh, what a beautiful woman. We just spoke. We both are kind of faith-is-first in our lives, so we bonded a whole bunch, and she was fun and always being kind of like "mama bear" on set. So, for the one day that we had her, she came in and owned it, and they gave her so much dialogue for one day. So she was great.
After nearly two decades of holiday films, why do you think Hallmark's seasonal programming continues to be such a hit? How does it feel to be a part of that?
In a time where cable is on a decline, they continue to just get the numbers with every single project, but I think it's because of their message and their positivity in that they really practice what they preach. They are the best people, they have great morals, integrity — it's a great company that everybody has the same values. They all have the same goal and treat each other respectfully.
I think something that's super-special, and it's not a business model that everybody follows, but I wish they would. With Hallmark, they're like, "when you're in our family, you're in our family," like if you were a joy to work with and you match up to our values, we want you in, essentially, so that's why you see these people coming back over and over again. It's like this mutual love fest where you really do join a team and they have really just created something super special that I haven't seen any other network do.
Considering you're based in Hawaii, what does a PenaVega Christmas entail? Will some holiday film binging be on the agenda?
For us, our traditions are making homemade caramels and watching Christmas movies. So we're eager to jump on our homemade caramels because we make a bunch — like a little over a thousand depending on who we have to give them to — and then we wrap them individually, put them in mason jars and then we send them out.
It's just so fun, and you put love into it. People know that they're homemade and they're delicious, so it's a really good combo. But it's just really nice to be home right now and not be doing anything, so we're just enjoying our home family time. And then right at the beginning of next year, we start working with Hallmark again, so they're keeping us busy. They're really taking good care of us.
Christmas Made to Order, Sunday, December 23, 8/7c, Hallmark Channel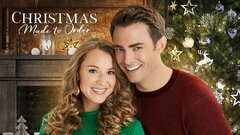 Powered by