5 Other Candidates Who Should Host the 2019 Oscars (POLL)
On Dec. 4, the Academy of Motion Pictures Arts and Sciences announced that comedian/actor Kevin Hart would be hosting the 2019 Oscars ceremony. Just over 48 hours later, however, Hart announced his decision to withdraw after homophobic tweets he wrote between 2009 and 2011 surfaced to much outrage.
Hart eventually apologized on social media. He wrote, "I do not want to be a distraction on a night that should be celebrated by so many amazing talented artists. I sincerely apologize to the LGBTQ community for my insensitive words from my past."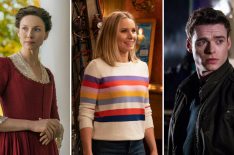 See Also
'Outlander,' 'The Good Place,' 'Bodyguard' and more were among the welcome TV surprises.
So, who would be a good replacement? Past hosts have included Jimmy Kimmel, Ellen DeGeneres, Hugh Jackson, Whoopi Goldberg, and Chris Rock. But it seems the Academy is leaning in the direction of a first-time host.
Below are a few people we think would bring the laughs:
1. Tiffany Haddish and Maya Rudolph
The dynamic duo took the stage at last year's Oscars and stole the show. The SNL alum and the Girls Trip star are equally hilarious, spontaneous, and down for any type of sketch.
2. Dwayne 'The Rock' Johnson
The actor/host/producer is just as much as an action star as he is a comedy star. He hosts his new competition series The Titan Games for NBC starting in January, and is pretty much beloved by everyone in Hollywood and across the globe.
3. John Mulaney
The breakout comedian of 2018 has hosted his old stomping grounds, Saturday Night Live, and released two Netflix standup specials: John Mulaney: Kid Gorgeous at Radio City and The Comeback Kid.
4. Wanda Sykes
The actress, comedian, and writer is a veteran in the comedy world and an Emmy winner. On Twitter, she joked that Siri and Alexa should host the Oscars.
5. 2 Dope Queens (Jessica Williams and Phoebe Robinson)
Williams is a former a senior correspondent from The DailyShow, and Robinson is a writer and comedian who created the podcast "2 Dope Queens." They also just filmed their second comedy special for HBO.
So, who do you want to see host the Oscars? Take the poll below: