Gregory Harrison Talks Reuniting With Wendie Malick on 'American Housewife,' 'Falcon Crest' Memories & More
He'd been working television regularly when his breakout role as Dr. George Alonzo "Gonzo" Gates on Trapper John, M.D., came along in 1979, and now, Harrison can be seen tonight on American Housewife, starring Katy Mixon and Diedrich Bader.
Harrison's playing Dan, a cat-loving former flame of Kathryn (Wendie Malick). It's déjà vu all over again for the actors, as they've appeared together on both Hot in Cleveland and in the Hallmark film After All These Years.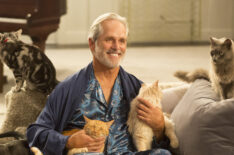 See Also
The 'Trapper John, M.D.' and 'Logan's Run' star throws Katie's mom, Kathryn (Wendie Malick), for a loop!
In addition to chatting about his Housewife gig, Harrison fielded some questions from TV Insider about other credits including his role as cutthroat Michael Sharpe on Falcon Crest, why he got his family out of Los Angeles, and which movie he's most recognized for – and if you think it's for Not For Ladies Only the TV movie in which he played a stripper, you'd be wrong!
Did Wendie recommend you for this part of her TV ex as you two have worked together before?
Gregory Harrison: They may have gone to Wendie [and asked for her input], but I didn't ask her. She has recommended me before to play an on-air boyfriend. We get along so well and I think we have good chemistry. We really enjoy each other. I was thrilled to work with her again. I just love her.
What can you tease about your character, Dan?
I don't want to give away the plot points, but there's a 'Hugh Hefner-ish' look and feel to this guy I'm playing. He's unique. My character [has] cats and producers asked if I minded working with them. I said sure, I have some of my own. They said, 'Good! We have six of them!' An [associate director] once said to me 'working with actors is like herding cats,' but these ones were amazing.
You've also been busy with the Hallmark Channel?
Yes. They've been great to me. I've done the last two seasons of Chesapeake Shores. We're waiting to hear on next season. I've been working on a production of a play titled Circling. It's a great play that I'm hoping to take all the way to New York. I love doing theater. It's like going to the gym for an actor because you get back in touch with your whole body. When you work with cameras, you tend to lock yourself into your marks.
Your credits read like a TV encyclopedia. When you're out and about, what series are you most spotted for?
It's funny now…for a long time it was Trapper John MD because it was on for so long and was a highly-rated show the whole time. I'm a surfer still and I did a surfing [feature film] called North Shore. It's become this iconic film, almost like The Rocky Horror Picture Show in that it has midnight screenings and everybody knows every line. The world I travel in, which is often beaches and ocean-related stuff, I'm really recognized for that. I appreciate it.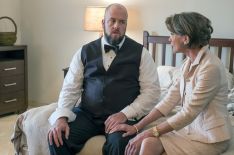 See Also
Plus, she shares what it was like starring alongside frequent co-star Dan Lauria again.
You stepped in to play the villain role, Michael Sharpe, on Falcon Crest in its final season. Fans would have loved to have seen that series revived as Dallas was a while back.
Wouldn't that have been fun? Michael Sharpe was one of my favorite characters, my first evil guy. Michael was charmingly evil and that was a fun job. I didn't really get to cross paths with Jane Wyman (Angela). She was pretty much off the show when I came on. We might have shot something [together] that aired later on in the season. I also did a mini-series, Fresno, with Carol Burnett, which was a satire of all those primetime soaps.
You moved your family out of Los Angeles and Hollywood to raise your kids in a smaller town where neighbors actually wave to each other with their whole hand – not just one digit.
[Laughs] Yes. Back in the 1990s, I got out of L.A. and raised my kids [in a town] on the coast. I thought that would dissuade them from wanting to get into the business when they were kids. It worked in that they had 'normal' childhoods, but two of my three daughters are in the business so it didn't succeed in keeping them away from it [ultimately]. The pressure of kids having to follow in their folks' footsteps is pretty prevalent in Hollywood and Southern California. I didn't want them to feel that.
What would you like to tackle next?
I've been doing a few independent films over the last few years. They were fun to work on because they reminded me of why I go into acting in the first place. I'd like to do more of those.
Any chance Dan will be back on American Housewife?
It's possible. My character doesn't die. It's a wonderful group of easy-going and very creative people. I'd love to do another episode with that group. Sometimes you walk away [from a guest starring role] saying 'Thanks goodness, I survived!' But, I didn't feel that way about this group at all.
American Housewife, Wednesdays, 8:30/7:30c, ABC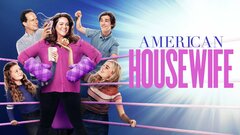 Powered by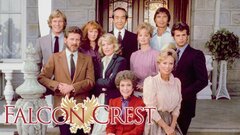 Powered by