'This Is Us' Star Melanie Liburd on That Shocking Fall Finale and What's Next For Zoe & Kevin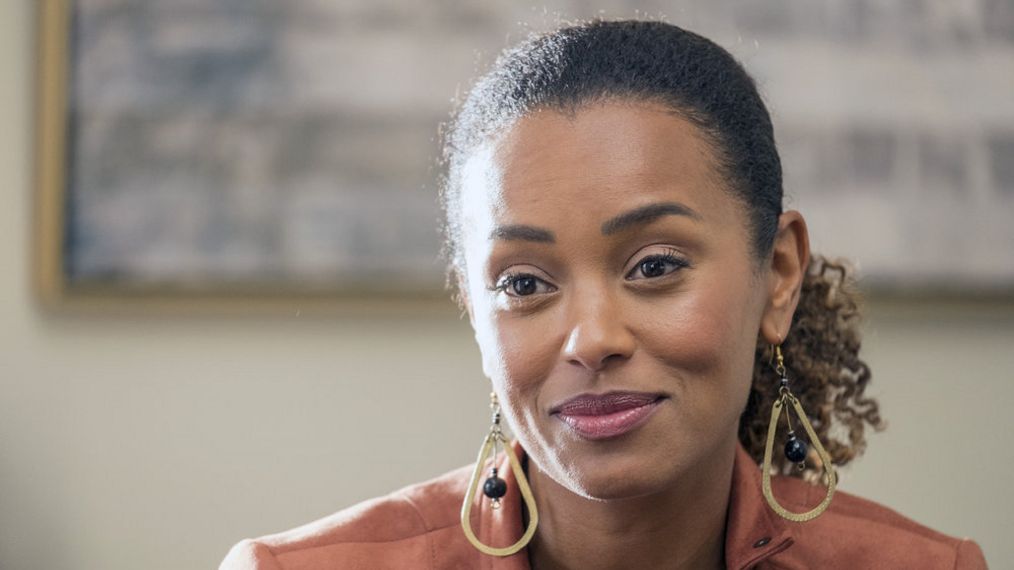 [Warning: The below contains MAJOR spoilers for Season 3, Episode 9 of This Is Us, "The Beginning Is The End Is The Beginning"]
It's been months since fans were first introduced to Beth's (Susan Kelechi Watson) cousin Zoe played by Melanie Liburd on NBC's This Is Us, and with each passing week they've learned more and more about the beautiful documentarian.
In the Season 3 fall finale, "The Beginning Is The End Is The Beginning," Kevin (Justin Hartley) and Zoe were put in a peculiar predicament as they discover [Spoiler] Nicky (Michael Angarano) survived the Vietnam War and is still alive to this day!
See Also
Everything fans thought they knew has shifted.
The revelation served as one of many cliffhangers for the episode which will be the show's last until Tuesday, January 15.
So how do we wait until then? Liburd is answering our questions about the big Vietnam reveal, what it was like filming on location in Asia, and what's next.
How long have you known about where Zoe and Kevin's Vietnam trip would lead?
Melanie Liburd: I knew for a while. We're about to start filming [Episode 313] now, so we're quite ahead, but it was just such a wonderful experience. I mean, what a beautiful storyline! They've got this wonderful adventure together in Vietnam and just help each other through the kind of pain that Kevin's suffering with his father and the pain Zoe suffered from her father in a completely different spectrum. I just thought it's so beautifully written, and we're so lucky to have our writers.
Since it's been revealed that Nicky's alive. How will that affect you and Kevin's storyline moving forward?
Kevin and Zoe are just so shocked that he's still alive, and with Zoe being a documentarian, she was just so willing to go on this adventure with him because she loves to find the truth. To then find this bombshell is quite amazing, especially when his father was such a family man. Jack would always talk about his family and his children so to find out that [Nicky]'s alive, it's so exciting. Very exciting. And I think Nick's gonna have to – without giving too much for next episode away – explain that to the family. It's fascinating.
Fans recently learned about Zoe's past with her abusive father. Will that play a bigger role in Zoe's storyline moving forward?
At some point – I mean, the writers always get their payoff which is amazing – so at some point, I'm sure we'll find out about Zoe's past and her father. And how it came to be that she ended up growing up with Beth's family, and what happened with her mother, and where did her mother go after she left her with Beth's family? So, I think definitely I'd love to explore more off-the-path, even though I'm sure it would be very complex and painful for Zoe to maybe even meet her father one day. Who knows? That would be interesting.
As an actress, I'm sure that prospect is appealing.
Definitely. It's a huge challenge, you know? It's so complex and it's such a serious issue and for me if anyone can watch the show and it can help them in anyway or help talk about something, then that's a good thing. Zoe's character, she carried this weight around with her and I think it's such a relief to share it with Kevin and to open up to him and not be judged by it. It's a really beautiful relationship that they're developing, they're getting closer and it's really exciting.
See Also
Fans didn't see this one coming...
You got to film on location in Vietnam. What was that experience like? How did the setting impact your performance?
It was wonderful and we went and filmed in a real Vietnamese market where people were cooking beautiful food and the smells with the crazy loud hustle bustle and the vibrancy of it all. We filmed in the middle of the market and didn't really close the set down, we just kind of had a [cinematographer] and Yasu [Tanida] just had a long lens camera, we were mic'd and just filmed at the one end of this market. So people would sit down next to us and try and talk to us – it was so much fun. It was a great experience, and the food out there is so fresh and lovely. And the countryside and some of the locations we went to were just so pretty.
Did you really eat bat like Zoe?
I did not eat bat. [Laughs] I don't think I'm as brave as Zoe in real life – I think she definitely puts herself out there and likes to immerse herself. I did eat some pho, which was great. Yeah, I did not try the bat though.
We saw some friction between Randall (Sterling K. Brown) and Beth at the end of this episode; will that effect Zoe and Kevin's relationship in any way?
I know Beth and Zoe will definitely talk about it – Beth and Zoe are very close and if Zoe can help Beth in any way, then she'll be there for sure and vice versa. Beth's like a rock to Zoe and to everyone else and I think someone else needs to look after Beth for a minute; she's having a tough time at the moment. But I'm sure there will definitely be some conversations [between] Kevin and Randall for sure.
We recently had a Toby (Chris Sullivan)-centric episode. When will fans get a look into Beth and Zoe's childhoods? Will that happen this season?
Yes. Well we're delving into Susan [Kelechi Watson] who plays Beth's backstory in [Episode 13] so that's very exciting. We've just gotten the scripts for that one so you'll see some of Zoe – it's not completely Zoe's backstory, I'm sure that will come in the future hopefully. They grew up together so obviously they're present in each other's live. And they have this wonderful relationship and how they formed that relationship, and what happens when they were growing up.
There have been many different storylines covered in this series, is there anything that hits close to home for you in particular?
Oh goodness, there are so many things I feel like I connect with. I watch the show like everyone else, and I'm crying… The beautiful storyline when we go to see Mr. and Mrs. Robinson where Zoe and Kevin's issues come up in an interracial relationship and I just thought it was so beautifully done and she tries to explain to him little things about her and her life. The show just has such a beautiful way of doing that, and connecting with everyone really.
This Is Us, Returns Tuesday, January 15, 9/8c, NBC
Powered by