4 New Theories About the 'This Is Us' Flash-Forward & 'Her' Reveal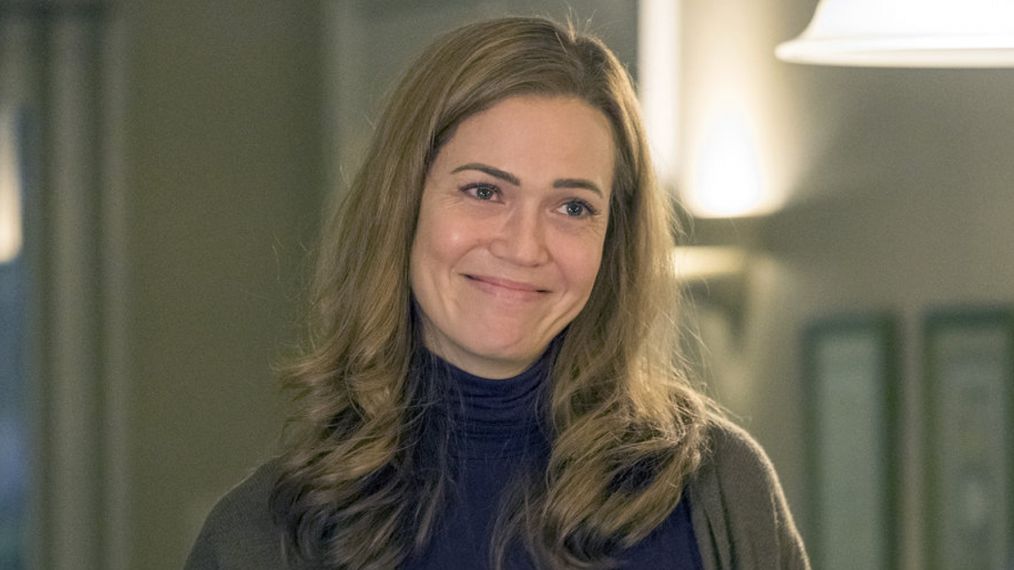 [Warning: The below contains MAJOR spoilers for Season 3, Episode 9 of This Is Us, "The Beginning Is The End Is The Beginning"]
Since Season 2 of This Is Us ventured into the future, we've had a number of questions: What's going on? Who is "her"? Will there be answers?
Thankfully, the Season 3 fall finale finally provided some answers. The mysterious "her" that an aged Randall (Sterling K. Brown) and grown daughter Tess (Iantha Richardson) had alluded to in previous episodes was uncovered via an older Beth (Susan Kelechi Watson).
See Also
The actress also reflects on filming in Vietnam and teases more to come from Zoe's backstory.
In the quick scene, Beth mentions an impending visit with Tess and Randall to go see "Randall's mother." This moment confirms that the "her" is, in fact, Rebecca (Mandy Moore).
Along with this development, the lives of these future Pearsons have become a little clearer. Below, we're breaking down the leading theories from this episode:
Rebecca Is Dying
At this point in time, Tess is an adult, which would make Rebecca somewhere in her 80s. Both Tess and Randall's reluctance to visit her make this theory that she's in poor health all the more reasonable because who wants to see their loved ones leave them? Also, as more of the timeline comes together — including more characters than the initial Randall and Tess sequence — it sets up a clear conclusion. This isa show that began with three births, and a death would fulfill this cyclical journey.
When the future timeline was introduced, Sterling K. Brown caused a stir when he posted a photo on Instagram with the caption, "Ready to see what the future holds? #ThisIsUs." The image finds the actor with his hands behind his back and, despite that foggy background, it's clear he's standing in a hospital room. If Rebecca's dying, a hospital visit wouldn't be shocking.
Tess Is Very Close to Rebecca
In the fall finale, present-day Tess (Eris Baker) is grappling with her sexuality while having a heartfelt conversation with her grandmother. In the Thanksgiving episode, she also opened up to Kate (Chrissy Metz) about liking girls but had asked her not to tell her parents. Rebecca revealing that Kate told her doesn't go well at first, but she assures Tess that the secret can remain between them until she chooses to tell her parents. It's a moment where we can see her and Tess' relationship grew stronger.
See Also
Fans didn't see this one coming...
Taking this exchange into consideration, it's unsurprising that Kate and Tess may form an unbreakable bond that is threatened by Rebecca's passing. Tess' reluctance to see Rebecca in a declining state is not only understandable, it's expected.
Randall and Beth Aren't Together
We conclude in the present timeline with Beth setting Randall up to sleep on the couch after he chooses to continue his campaign, so the flash-forward showing the spouses apart is concerning. This is a couple that's been the picture of power and perfection since the show debuted in 2016. Now that cracks are forming, will they be able to mend things? We're hoping further flash-forward sequences will put our minds at ease, but that's unlikely to happen anytime soon.
See Also
Could Tess' secret change the 'her' mystery?
Something Happens to Kate
In one of the previous flash-forward scenes from this season, viewers caught a glimpse of Toby (Chris Sullivan), who is asked by Randall to tag along to see "her." Now that we know it's Rebecca, could his depressed state or indifference mean that Kate's out of the picture in his life entirely? In the fall finale, they find out they're having a baby boy while some ominous music plays — could that hint at a bump in the road for the couple? Kate's health is something that has been a topic lately with her pregnancy, so there's a chance her demise could come in the future.
The writers have definitely given us a lot to think about in the coming weeks until the show's return in January.
This Is Us, Returns Tuesday, January 15, 9/8c, NBC
Powered by