What to Expect From 'The Big Bang Theory'-'Young Sheldon' Crossover
It's almost here — the Big Bang Theory and Young Sheldon crossover event is on its way, and CBS is finally giving fans a hint as to what they can expect from the December 6 episode!
Titled "The VCR Illumination," the logline via the network reveals how adult Sheldon (Jim Parsons) and his younger self (Iain Armitage) wind up in the same place… and it takes a little movie magic.
And Young Sheldon's titular star isn't the only cast member dropping by Big Bang Theory, as Lance Barber (Sheldon's father, George Sr.) and Montana Jordan (Sheldon's brother, Georgie) are also set to appear.
"Sheldon and Amy are still down about their [Super Asymmetry] theory being disproven, but a VHS tape from Sheldon's past inspires him not to give up," the release reads. "Also, Bernadette turns into a pageant mom when she tries to help Wolowitz ace his Magic Castle audition."
So what info can we glean from this short description? The introduction of a VHS tape is certainly a start, as it sounds like it will be the link between the present and the past. Popular in the '80s and '90s, VHS tapes were the staple when it came time to watch or make a home movie.
See Also
Flashback? Dream sequence? We're not sure how they're doing it but this is one crossover not to be missed!
While the details are still a little fuzzy, the synopsis clears up any confusion about the two different timelines. And this isn't the only exciting news we've learned about the episode: Making a return as Leonard's (Johnny Galecki) mother Beverly is The Good Fight's Christine Baranski.
All of this and more will be part of the big crossover, so be sure to tune in!
The Big Bang Theory, "The VCR Illumination," Thursday, December 6, 8/7c, CBS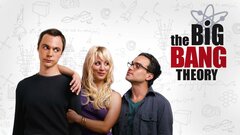 Powered by