Amazon Anthology 'Modern Love' Casts Tina Fey, Anne Hathaway & More
Amazon is building its next star-studded juggernaut anthology series with the upcoming show Modern Love.
Seeming to take a cue from recent anthology The Romanoffs, Modern Love is tapping talent for both sides of the camera as Tina Fey, Anne Hathaway, Dev Patel, John Slattery and more are set to star, while Shameless' Emmy Rossum is among the few directors announced.
According to The Hollywood Reporter, the eight-episode half-hour series will also see Catastrophe's Sharon Horgan write and direct an episode—the one starring Fey—while Tom Hall (Sensation) will also join Horgan and Rossum as a director.
From showrunner John Carney (Once, Sing Street), Modern Love will also feature Brandon Victor Dixon, Catherine Keener, Julia Garner, Andy Garcia, Cristin Milioti, Olivia Cooke, Andrew Scott, Shea Whigham, Gary Carr, Sofia Boutella and John Gallagher Jr.
"It's like I woke up in the actor candy store. We've managed to assemble a dream cast of my favorite actors," Carney said of the news to THR. "It's a testament to the reach of the original column and of how, now more than ever, love is the only certainty."
The series is based on the stories from the New York Times column and podcast which will offer viewers different tales in each episode. Fans of 30 Rock will smile knowing that former guest star Slattery will appear in the episode by Horgan starring Fey.
Hall—like Horgan—will also pen his episode, which has yet to release any further details. Meanwhile, Rossum's episode will include a script by late screenwriter Audrey Wells, whose work includes the recent film The Hate U Give and romantic dramedy Under the Tuscan Sun.
With a cast and crew as stacked as Modern Love's, what's not to like?
Modern Love, Coming Soon, Prime Video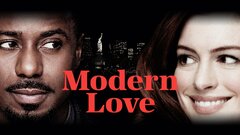 Powered by