Who Should Meredith Choose on 'Grey's Anatomy': DeLuca or Link? (POLL)
It's about time Meredith (Ellen Pompeo) got a viable romantic interest — and now, she has two of them!
In the Grey's Anatomy midseason finale, "Blowin' in the Wind," the love triangle between Meredith, DeLuca (Giacomo Gianniotti), and Link (Chris Carmack), really picked up the pace. In an emotionally vulnerable scene, DeLuca finally told Mer how he really feels.
See Also
Plus, the actor talks about directing more than 20 episodes of the hit series.
"I'm not sorry I kissed you at the wedding 'cause it's all I've been able to think about ever since," he said, adding that he knows Meredith feels the spark between them, too. "Look, we can go through all these excuses but I know you feel it too," he added.
She didn't give in though, responding that she'd think about what he said. (To be fair, she's already been doing a lot of thinking, considering she's had sex dreams about him!)
"Having someone vie for the same person you like might force you to accelerate your declaration [of affection] to that person. But I don't necessarily think that's what is happening here. I think it's just a coincidence that, as DeLuca is figuring out that he has feelings for her, that somebody else also is figuring out he has feelings for her," Gianniotti told Entertainment Weekly.
"I think it just adds a challenging and comical layer. It's fun for Meredith, having these two guys falling at her feet," he continued.
As for the qualities that DeLuca possesses that he thinks will win her over, Giannotti said,"We need to have Meredith not just see him being heroic but being kind and sweet and empathetic. Those are the things that are going to make Meredith fall in love with him."
Meanwhile, patient/matchmaker CeCe (Caroline Clay) is pushing Meredith to go on a date with the new "ortho god" Link, and she does finally agree.
But as fate would have it: MerLuca got stuck in an elevator together. So, will they go for it? We'll have to wait until the New Year to find out!
Who do you think Meredith should pursue things with? Take our poll below:
Grey's Anatomy, Season 15 Returns, 2019, ABC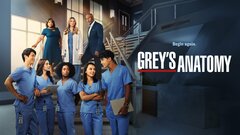 Powered by