'Grey's Anatomy' Star Kevin McKidd Teases Owen's Reaction to Teddy's Pregnancy
Former Army doc Owen Hunt (Kevin McKidd) his been riding a tide of woe on Grey's Anatomy since his 2008 arrival, from severe PTSD and a military sister MIA to two ugly divorces and the unfulfilled desire for children.
But the outlook has improved for Grey Sloan Memorial's aptly named head of trauma: His sibling (Abigail Spencer) is alive, and he and his second ex-wife, Amelia Shepherd (Caterina Scorsone), are fostering a baby. Now, major complications are on the way, as former flame Teddy Altman (Kim Raver) is back — and pregnant with Owen's baby.
With the November 15 midseason finale (which he also directed), the Scottish star previews the latest twists for his character and where he'd love Hunt to end up.
Owen and Amelia are happy, but Teddy's secret is already known by Meredith Grey (Ellen Pompeo) and Maggie Pierce (Kelly McCreary). Where do we find Owen in tonight's episode?
Kevin McKidd: He is still in blissful ignorance. Teddy's big ask not to tell Owen and Amelia has been hard for Meredith and Maggie. It's interesting how it will all unravel.
Executive producer Krista Vernoff told TV Guide Magazine that Owen loves both these women, and "there are no villains here." How does Owen feel about Teddy's return?
He is happy she's back, but he's very committed to Amelia.
Is there room for yet another child in Owen's life, especially one he shares with a past love?
Poor guy, he wished to be a father for so many seasons. I'll say be careful what you wish for.
This episode is the winter finale. What can we expect?
There's a big windstorm, and the hospital is incredibly busy. The craziness of that throws Teddy, Owen and Amelia together. Amelia and Teddy's relationship is already charged, and things get intense among them all.
It sounds like a big emotional hour for Owen — and you're directing too!
They used to give me light episodes [when I directed], but I've done more than 20, and they know I have the bandwidth to do both well.
With all the speculation of how Grey's might end, what do you see happening to Owen?
Things have been so tumultuous. It would be nice to see him with a content, happy life. I just want him to not be tortured.
Grey's Anatomy, Midseason Finale, Thursday, November 15, 8/7c, ABC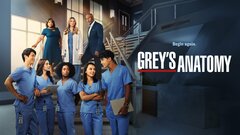 Powered by