'Married… With Children's Most Essential Episodes on Hulu
Married…With Children didn't just push the envelope — it kicked it into oblivion. For the first time, all 259 episodes of the controversial Fox sitcom (which aired from 1987 to 1997) are available to stream on Hulu. Here are five hilarious anti-PC examples in which Chicago's blue-collar Bundy family put the fun in dysfunctional.
Her Cups Runneth Over (Season 3, Episode 6)
Poor housewife Peg (Katey Sagal, second from left, with Christina Applegate, Ed O'Neill, David Faustino, Amanda Bearse and David Garrison) is inconsolable upon learning that her favorite bra has been discontinued. To cheer her up, husband Al (O'Neill) and neighbor Steve (Garrison) schlep to Francine's of Hollywood in Wisconsin to find it. Thanks to some seriously off-color jokes, this raunchy installment led many folks to call for boycotts of the show's sponsors.
It's a Bundyful Life (Season 4, Episodes 11–12)
The Christmas episodes were always subversive treats — and this spoof of It's a Wonderful Life is the tree topper. While hanging lights, misanthropic Al muses that he never should have been born. Enter an obnoxious guardian angel (comic Sam Kinison, below, with O'Neill), who presents him with a shocking alternative lifestyle in which his family is wealthy, smart and happy. Ho-ho-nooooooo.
Sue Casa, His Casa (Season 5, Episode 3)
Will Al ever be able to pay the bills without bellyaching? Lo and behold, all his financial problems may be solved when his son, Bud (Faustino), a screw-up, slams the family Dodge into a Mercedes. The Bundys decide to countersue the driver for "a jillion" dollars and walk into court feigning injury. But the jig is up as soon as Al and Peg's dingbat daughter, Kelly (Applegate), takes the witness stand, pretending to be blind.
You Better Shop Around (Season 5, Episodes 21–22)
After blowing out the power in the neighborhood because of a faulty air conditioner, Al moves his family into the frozen food section of the local grocery store. Soon, he and long-suffering neighbor Marcy (Bearse) compete, Supermarket Sweep–style, for $1,000. Who wins? Let's just say Al's rigged equipment — complete with Ginsu knives — is dubbed "The Cart of Death."
Crimes Against Obesity (Season 11, Episode 9)
For years, Al has insulted the plus-size women who patronize the shoe store where he works. No more. On his birthday, they all converge, lock him in and put him on trial. (Not even Peg can defend him: "You should see what he's like with midgets.") Finally, Al admits that he was overweight as a kid and bullied, which explains his behavior. He's lying, of course.
Married…With Children, Seasons 1–11 Available Now, Hulu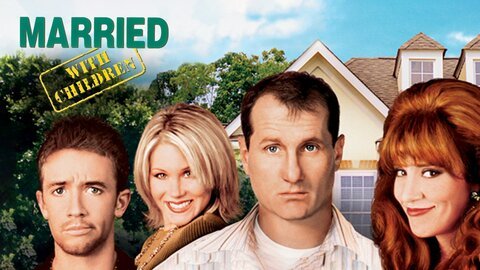 Powered by