Roush Review: 'Nightflyers' Is a Grisly Hybrid of Science Fiction and Horror
In space, can anyone hear you go, "Huh?"
Based on a novella by Game of Thrones author George R.R. Martin, Nightflyers is a grisly hybrid of science fiction and horror, capable of claustrophobic chills but more often merely evoking chaotic confusion.
See Also
There are plenty of TV adaptations in the works, from family dramas to psychological thrillers to supernatural adventures.
It opens with shocking carnage aboard the space vessel Nightflyer, on a mission to make contact with alien life. Soon, it's clear we can't always believe our eyes.
Which could be the doing of a mischievous empath (Sam Strike), although the ship psychiatrist (Gretchen Mol) denies it. Or is the Nightflyer's all-seeing computer to blame for the deadly mishaps?
When you learn what (or who) is behind the mayhem, you may scream — with unintended laughter.
Nightflyers, Series Premiere, Sunday, December 2 – Thursday, December 6, 10/9c, Syfy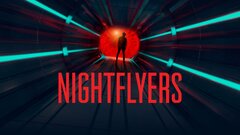 Powered by