Are Maggie & Jackson Really Over on 'Grey's Anatomy'?
[Spoiler Alert: This article contains spoilers from the Grey's Anatomy episode "Anybody Have a Map?"]
Another Grey's Anatomy couple has hit a major bump in the road.
In recent episodes of the medical drama — after a short break away to find himself and do some spiritual healing — Jackson Avery (Jesse Williams) has settled back into Seattle, to Grey Sloan Memorial, and his relationship with girlfriend Maggie Pierce (Kelly McCreary). But it hasn't all been smooth sailing.
Though the November 8 episode started off with #Jaggie seemingly back on track and cozied up in bed together, Jackson's phone soon starts buzzing up a storm — which we know, ladies, isn't a good sign.
Maggie eventually picked up the phone to find a number of text messages — heart emojis included — from a woman named Kate who misses Jackson… a lot. When confronted, he admitted to meeting Kate during his journey. Apparently, they connected because they were both searching for the same answers, but he insists they didn't sleep together.
Also, shockingly, Kate's not the only woman Jackson's been talking to — he's also been in touch with his ex, April Kepner!
In an unbelievable move, Jackson blames his emotional cheating on Maggie because she's emotionally unavailable and doesn't have a deep connection to religion. "You run every time it gets complicated," he said. "You hide."
Instead of leaving, Maggie opens up to Jackson about being closed-off in relationships. "I never learned how to really love, or fight, or really let somebody in, without it feeling like the end of the world," she said.
In return, Jackson says he loves her but he's experiencing very intense grief — over the loss of his first child and the end of his marriage.
The heightened emotional moment is too much for Maggie and she breaks into tears and leaves Jackson, who is left trying to figure out what to do next.
The episode's director (and showrunner) Krista Vernoff loved leading this one and tells Entertainment Weekly what she thought about the possible breakup scene. "[Jackson] admits that he is grieving the end of his marriage even though he is also in love with her. Sometimes being in a new love story prompts you to revisit and grieve an old one," she said.
But Maggie "was a child genius, a prodigy. She never walked among her actual peers as a young person. They say that those formative years in grade school and middle school and high school — the friends and the frenemies and the enemies, the social dynamics of first friendships and first loves — these are essential for learning how to relate. How to fight. How to stick with a fight, how to get through a fight, how to trust."
"I don't believe that Maggie walks out that door because she can't handle what he actually said. I believe she walks out for all the reasons she just articulated — she never learned how to fight and the depth and the complexity of the feelings his admission stirs in her are deeply uncomfortable for her," she added.
As for if Maggie and Jackson can weather this storm, Vernoff said, "I believe Maggie can rise to the occasion, but it's going to take her a minute. [Jackson] didn't cheat. He isn't cheating. But Jackson has to rise to this occasion too… I believe they can get through this because I have seen people in real life walk through this and more."
Regardless, fans were feeling shady on social media about the potential end of Jaggie:
I feel like Jackson and Maggie are both right.

No, she doesn't open up to him the way she should, but that doesn't mean he should seek refuge with outside sources. #greysanatomy

— Jasmine (@jasjanae) November 9, 2018
everytime i see Maggie and Jackson together. #greysanatomy pic.twitter.com/2YpkxLlSvh

— kiana👑🌺🌸 (@kk_shaaay) November 9, 2018
Literally have NEVER liked Maggie and Jackson together. I hope this is the end of them. He deserves better. HE DESERVES APRIL. #japrilforever #GreysAnatomy
(Also, writing this threw TEARS bc of the Richard scene)

— A. (@ah_knee_suh) November 9, 2018
so Jackson is missing April and seems to want her back, and Maggie is gone now…. so like can we bring April back yet? i need Japril 👫 #GreysAnatomy

— shannon magauran (@shanmagauran) November 9, 2018
I miss April and Jackson as a couple, they were far more interesting than Jackson and Maggie! #greysanatomy

— ♓️Be A Pisces😀♓️ (@StrawberrygurlM) November 9, 2018
Grey's Anatomy, Thursdays, 8/7c, ABC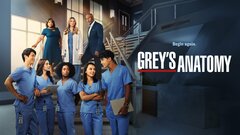 Powered by