'Westside' Story: Meet 3 Stars from Netflix's Musical Reality Soap (VIDEO)
If the original Real World moved into The Hills that were alive with the sound of music, you'd be sort of close to what is going on with Netflix's new unscripted series. But you'd also be really far from it, too. Because these people actually have talent!
Westside, dropping today on the streaming service, is a lushly shot reality series about nine aspiring musicians and singers from all different genres working together on a performance showcase that could help each of them advance their careers.
The cast, made up of Sean Patrick Murray, American Idol alum Pia Toscano, troubador James Byous, Arika Gluck, Austin Kolbe, Caitlyn Ary, Leo Gallo, Alexandra Krekorian and Taz Zavala is sickeningly gifted (the voices just soar) and they're all pretty damn gorgeous. But nobody gets a full deck, so of course each one of them has some stuff to work through if they're going to pull off the showcase without killing each other. Like, big, emotional and at times life-altering stuff.
In addition, each of the eight episodes brings original tunes and at least one fully produced music video, as well as cinema verité-style documentary footage of the artists' personal lives. So far, videos for the anthemic "We Are the Ones" and banger "Vibe" have been released and a 19-track soundtrack will also be available.
We recently sat down with Westside-rs — Leo, Sean, and James — to discuss the process of opening their worlds to 24/7 camera crews, how working on the show changed them as performers and why James' experience in particular was able to go from heartbreaking to undeniably inspiring. (Just ignore the cowlick on the back of my head that seems to want to join the guys on the couch and focus on Sean's cheekbones. I mean, lord.)
And after this, go binge Westside. Your playlists will thank you.
Westside, Season 1, Streaming, Netflix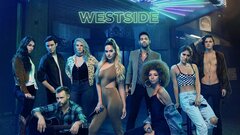 Powered by