Diego Luna to Star in Live-Action 'Rogue One' Prequel Series for Disney's New Streaming Service
Disney Chairman and CEO Bob Iger and Lucasfilm announced on Thursday that its new streaming service, slated to launch in late 2019, will be called Disney+. It was also confirmed that a second Star Wars live-action series is in the works and will debut on the streaming service.
Production will begin in 2019 on the untitled Rogue One: A Star Wars Story prequel series. The story will follow rebel spy Cassian Andor, played by Diego Luna, who is reprising his role from the 2016 hit movie — which itself was a prequel to the original Star Wars trilogy of films.
The official logline reveals fans will learn about "the adventures of rebel spy Cassian Andor during the formative years of the Rebellion and prior to the events of Rogue One… The rousing spy thriller will explore tales filled with espionage and daring missions to restore hope to a galaxy in the grip of a ruthless Empire."
"Going back to the Star Wars universe is very special for me," Luna said in a statement. "I have so many memories of the great work we did together and the relationships I made throughout the journey. We have a fantastic adventure ahead of us, and this new exciting format will give us the chance to explore this character more deeply."
The other live-action Star Wars series in development is The Mandalorian, from showrunner Jon Favreau. It takes place some time between the Return of the Jedi and The Force Awakens and will follow a "lone gunfighter in the outer reaches of the galaxy far from the authority of the New Republic," Favreau previously said.
The Mandalorian will also be five episodes, as five directors have already been announced: Dave Filoni (Star Wars: The Clone Wars, Star Wars Rebels), Taika Waititi (Thor: Ragnarok), Deborah Chow (Jessica Jones), Rick Famuyiwa (Dope), and Bryce Dallas Howard (Solemates).
See Also
The droid gave its opinions about causing trouble in a galaxy far, far, away, and what it was like to get the animation treatment.
No details yet on when the Rogue One prequel will premiere.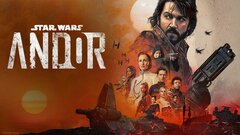 Andor
where to stream
Powered by