'Hawaii Five-0' Sneak Peek: Grover Is Caught in the Shower… by His Mother! (VIDEO)
Even a tough guy like Captain Lou Grover (Chi McBride) on CBS's crime drama, Hawaii Five-0, needs to let loose once in awhile… but who knew he liked singing in the shower?
In Friday's all-new episode, it's Thanksgiving in Hawaii and Grover's parents — played by the iconic Louis Gossett Jr. and Gladys Knight — as well as his brother Percy, Jr. (Clifton Powell), are in town! And of course, this strikes up some sibling rivalry between the brothers. Also in this episode — written by none other than McBride himself! — the Five-0 looks into an empty safe that crushed a thief to death.
See Also
The actors were on double duty as they depicted 1940s characters as well.
In the below exclusive sneak peek, we see that, despite a house full of guests, Grover is enjoying his morning shower and, yes, he may use the shower nozzle as a microphone as he belts out a tune.
But, his good times are interrupted by his mother, who doesn't seem to mind her naked son standing in front of her. (For good reason, which I'll let her explain in the clip!). Enjoy!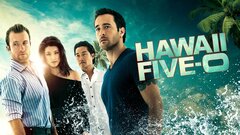 Powered by