How to Watch the 2018 Midterm Elections on TV & Streaming
It's Election Day, and for those interested in staying up-to-the-minute on the latest developments in the 2018 Midterms, you'll be glad to know there's plenty of coverage on TV. Ranging from the major networks to streaming, there's an option for every kind of viewer.
So while some favorites like This Is Us and The Conners take breaks this Tuesday, viewers can tune into some in-depth coverage across the airwaves.
See Also
The two also explain how coverage will be different on November 6 and why it's so important.
Below, we're breaking down all of your options for staying in the loop on this big day.
NBC
Beginning at 8/7c, the network will air the NBC News special The Vote: America's Future until 11/10c, when it breaks for the local news. The coverage will return at 11:30/10:30c. Those unable to catch the broadcast on TV can do so via streaming with MSNBC and NBCNews.
ABC
Similar to NBC, ABC will air 3 hours of coverage with the program ABC News 2018 Midterm Election beginning at 8/7c. If you prefer ABC and aren't able to watch on TV, you can stream the network's coverage on the ABC News website with Mary Bruce and Devin Dwyer hosted coverage beginning at 4:30/3:30c there. Other available streaming options include Roku, AppleTV, Amazon Fire TV, YouTube, Apple News, Facebook, Twitter and the ABC News mobile app.
CBS
As with its fellow networks, CBS will air coverage of the elections beginning at 8/7c with CBS News: Campaign 2018. The network's streaming service CBSN will provide coverage for viewers unable to access a TV.
CNN
Beginning at 5/4c, CNN's special coverage of the election will take form in the program Election Night In America (2018). Live-stream coverage will be available on the network's website as well as the CNNgo app.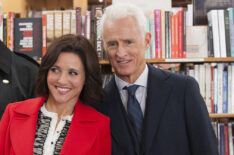 See Also
These TV candidates had us on the edges of our seats during their elections.
PBS
The Public Broadcasting Service will host PBS NewsHour Election Night Coverage 2018 starting at 8/7c. Streaming will be available all day ahead of the 8/7c special via Facebook, Twitter, YouTube, and Ustream.
Fox News
The network's special broadcast covering the elections will begin at 6/5c and will be made available through streaming on YouTube.
See Also
The Senator passed away over the weekend after a battle with cancer.
Bloomberg
Bloomberg will have their own livestream beginning at 8/7c which can be viewed here.
Facebook
While not providing their own coverage, there are a number of outlets utilizing the social media platform for live streaming including many of the networks mentioned above.
YouTube
Similar to Facebook, the video platform will also provide many viewers with many different streaming options.
With so many different options, it'd be hard for viewers to miss a single second of the talked-about event.