'The Neighborhood' First Look: Cedric the Entertainer Returns to His 'Barbershop' Roots (PHOTOS)
Back in his element! Cedric the Entertainer return to the barbershop for a special episode of The Neighborhood airing Monday, November 12, and TV Insider has your exclusive first look.
Of course, Cedric starred in the popular Barbershop film franchise, beginning in 2002, making the episode a sweet nod to his past. So what brings his character Calvin back there? Apparently, he needs a trim but someone else beats him to the chase — his new-ish neighbor Dave (Max Greenfield).
Per usual, Calvin isn't pleased to see his neighbor in one of his go-to spots, but things get even crazier when he realizes that the shop has actually embraced their new customer!
What kind of shenanigans will ensue? You'll have to watch "Welcome to the Barbershop" to find out. Below, see Dave, Calvin and more channeling Cedric's roots. We have a feeling that Barbershop fans won't be disappointed.
The Neighborhood, Monday, November 12, 8/7c, CBS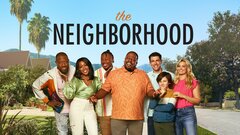 Powered by