Roush Review: 'Escape at Dannemora' Is a Riveting True Story
Like trapped animals, the three protagonists in producer-director Ben Stiller's riveting and superbly acted seven-part true-crime docudrama Escape at Dannemora reek of desperation.
That's to be expected of restless prison inmates Richard Matt (Benicio Del Toro, in full magnetic swagger) and David Sweat (a pensive Paul Dano), but it's also true of Tilly Mitchell (sourpussed Patricia Arquette), a dissatisfied, sexually frustrated prison employee who supervises the tailor shop where Matt and Sweat toil. As the men engage Tilly in risky and reckless backroom trysts, manipulating her to provide tools for a meticulously planned escape, she fancies herself the Bonnie to their Clydes.
The pathos is as excruciating as the underground caper is suspenseful, and Stiller ratchets the tension when his camera takes us inside the clammy bowels and tunnels of the prison, with Matt and Sweat hitting more than a few walls along the way.
Tabloids had a field day — "Shaw Skank Sex Triangle," blared one headline — in the aftermath of the infamous 2015 prison break and nearly monthlong manhunt in Upstate New York. But Stiller's virtuosic and detailed focus stays on the human dynamic: Matt's reckless narcissism clashing with the well-named Sweat's earnest labors, Tilly's bravado dissolving in nervous panic and despair, manifesting in cruelty to her devoted but slovenly husband (a heartbreaking Eric Lange).
There's no rooting for these lost souls, but Escape at least helps us understand them.
Escape at Dannemora, Series Premiere, Sunday, Nov. 18, 10/9c, Showtime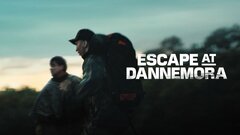 Powered by