Best Lines on TV This Week: Boyz II Men Back II Boyz
Our weekly round-up of best quips, quotes and quick bits of dialogue from the latest episodes.
Brooklyn Nine-Nine
Jake: "We should work the case together."
Stevie: "The Beatsie Boys reunion tour?"
Jake: "Tagline: Boys Will Always Be Boys. No wait. Some Boys Never Change. No wait. Boyz II Men Back II Boyz. No wait. Boy-ees!
—Jake (Andy Samberg) and Stevie (Damon Wayans Jr.) try to relive their glorious partner days
Jane the Virgin
"My buddy, Ryan Gosling, said, 'The only quality I look for in a woman is that she's Eva Mendes. There's nothing else I'm looking for.' At this point I was going to wave to Eva, and then look at you, and tell you… that you are what I've been looking for. And I think back to when we first met, when we were 16, and I think that my whole journey up to now has been about finding my way back to you."
— Rogelio (Jaime Camil) gives an epic engagement speech
Ten minutes looking for the perfect shoes to compliment my eyes. Shoe emoji. Huffing happy face emoji. Rainbow.
On the phone with my agent, fielding multiple offers. #WhatWillRoDoNext.
See no evil monkey emoji.
Exfoliating. #Loofa
Trying on all my fedoras. #HideInAHat.
— Rogelio's stream of tweets while "babysitting" Mateo
The X-Files
Scully: "Back in the day, did… we ever come across the ability to just… wish someone back to life?"
Mulder: "I invented it. When you were in the hospital, like this."
Scully: "You're a dark wizard, Mulder."
—Mulder (David Duchovny) remembers how he "wished" Scully (Gillian Anderson) back to life when she was in the hospital
RELATED: Read More Best Lines on TV
Superstore
"Birds, it's Mommy. Listen up. Scout, Taffy, FDR, Pikachu, you guys are in charge, so act like the leaders I know that you are."
— Dina (Lauren Ash) reveals she's really, really, really close to her pet birds
"Oh, I know. 'Leave a message, and we'll never call you back.' Well, that fig ain't gonna fly tonight, baby. This company's a sham. You lock us in. You control the music that we listen to. Oh, and try this on for size. The color difference in your signage is marginal. Oh, and you can tell Dicky Larson that he can suck my big, fat, sweaty toe."
— The usually chipper Glenn (Mark McKinney) finally shows off his angry side
The Magicians
"One thing that's real: You're always a raging d–k."
— According to Quentin (Jason Ralph), the fake-Penny from a spell has only one thing in common with the real Penny (Arjun Gupta
Supernatural
"It's kind of a magic STD. Kind of makes me nostalgic for good old-fashoned herpes."
— Dean Winchester (Jensen Ackles) explains a "kiss of death" curse that marks someone as a demon's next victim.
Never change, Dean. Thanks for watching #Supernatural! pic.twitter.com/851AAgIrBc

— Supernatural (@cw_spn) February 11, 2016
Pretty Little Liars
"You're making a lot of noise and none of it sounds like an omelet."
— Hanna (Ashely Benson) has little patience for her fiancé's stomping around in the morning
Telenovela
Ana Sofia: "You know what you need? Someone to ground you, to calm you. You need a Mimi. You need me to be your Mimi. You need a Me-Mimi. You need a Mini-Me-Mimi. That is me. Mi-mi-mi-mi—
Gael: "Please stop."
— Ana Sofia (Eva Longoria) gets a bit too rhyme-happy trying to support Mimi (Diana Maria Riva)
Gael: "Was becoming an actor a huge mistake? I mean, I could've been anything—a model, a supermodel, a fitness model, fashion model, ab model, underwear model, shoes—I can sell a lot of shoes."
— Gael (Jose Moreno Brooks) reveals his "various" options outside of acting
Downton Abbey
Carson: "I don't like it. Poking and prying around the house. What's to stop them from pocketing the spoons?"
Mrs. Hughes: "I doubt they'll look in the pantry."
— Mr. Carson (Jim Carter) worries about the Abbey opening for visitors and Mrs. Hughes thinks his priorities aren't quite in line
Thomas: "I always wonder whether someone is having a better time than I am."
Carson: "But that's what's so dangerous. You think they must be having a better time. Then you want to have not to have a better time. The next thing you know, there's a guillotine in Trafalgar Square."
— Carson continues to overreact to the plans to allow the public to visit the Abbey for one day
DC's Legends of Tomorrow
Ray: "Really? We're trying to save the world and you're lifting wallets?"
Snart: "It's called multi-tasking."
—Ray (Brandon Routh) continues to be concerned about Snart's (Wentworth Miller) priorities during their missions
Two Broke Girls
"This dress sets women back further than HBO's Ballers."
—Caroline (Beth Behrs) is appalled by what she and Max (Kat Dennings) have to wear in order to get jobs at Game Con.
Modern Family
Haley: "Why do I still have to come to these family meetings? I'm an adult."
Alex: "She said, emerging from the basement in her pajamas at noon."
Haley: "Get off my back. It's Saturday. [turns to Phil] Right?"
Phil:" Yeah.
—Haley (Sarah Hyland) is, uh, just checking.
iZombie
Liv: "What kind of a person doesn't use Twitter or Facebook?"
Ravi: "Only a lunatic. How else would he disseminate inspirational quotes and latte art?"
—Liv (Rose McIver) worries about her new zombie boyfriend's past
"BuzzFeed teaches us that when a man abruptly change his plans, it means he's up to no good."
—Liv shows off her inner millennial by relying on BuzzFeed for relationship advice
Ravi: "A tiny man with a jackhammer has taken up residence in my skull."
Liv: "And yet, I'll bet Peyton still made it to 6 am Spin class, didn't she?"
Ravi: "Big deal. I've been spinning since 4:30."
—Ravi (Rahul Kohli) has a rough time recovering from a night of drinking with Peyton (Aly Michalka)
"I know how this turns out. It's like the shots contest in Raiders of the Lost Ark. You're Karen Allen and I'm the fat Nepalese guy that ends up under the table."
—Ravi makes an Indiana Jones reference to describe Peyton's drinking skills
The Flash
Earth-2 Cisco: "You don't even know how powerful you are. All you use your powers for are these cheap parlor tricks when you… you could be a god. We could be gods."
Earth-1 Cisco: "Are you Cloud City Vadering me right now?"
— Reverb (Carlos Valdez) has a evil proposition for his doppelgänger that has shades of Star Wars
You, Me, and the Apocalypse
"Okay, it's time to face facts. I will never swim with dolphins, see the sun rise over the Taj Mahal, or get round to putting up those shelves in the kitchen. Why? 'Cause it's the end of the world."
— Jamie (Mathew Baynton) is coming to terms with the end of the world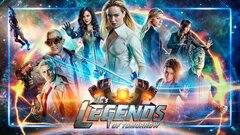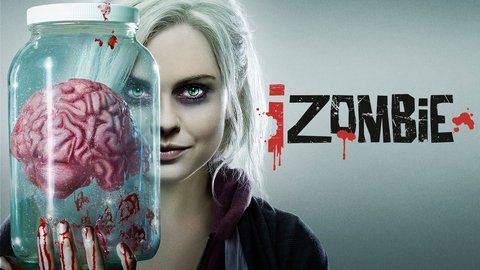 iZombie
where to stream