'Manifest' Star Melissa Roxburgh Says 'There's No Messing Around' With the Callings
The secret's out! Manifest's siblings Michaela (Melissa Roxburgh) and Ben (Josh Dallas) have finally confided in those closest to them about the troubling supernatural events they've experienced ever since their Montego Air Flight 828 returned five and a half years after takeoff.
Michaela told ex Jared (J.R. Ramirez), and Ben shared with his wife, Grace (Athena Karkanis) — and while Grace is concerned that Ben is too obsessed with solving the mystery, Jared "is more understanding," Roxburgh notes. "For Michaela, it felt good to get it off her chest."
See Also
'Manifest,' 'Magnum P.I.,' and 'Singe Parents' are all in the clear so far.
Her relief from coming clean about the "callings" (a voice, a vision or a strong feeling that urges recipients to take certain actions) doesn't last long. When fellow passenger Harvey (Richard Topol) threatens to take his own life, Michaela goes to reason with him. "With strange things happening, Harvey is at his wits' end," Roxburgh explains. "He feels people are dying now because of him."
The encounter shakes Michaela. "With the things Harvey said, she's now not sure if telling outsiders about the callings is putting their lives at risk," continues Roxburgh, who adds that Michaela panics and decides to remove Jared from harm by forcing him out of her life.
"This is the episode where we realize just how powerful this thing is. Whatever's going on, it's strong and potentially dark. There's no messing around with it."
Manifest, Mondays, 10/9c, NBC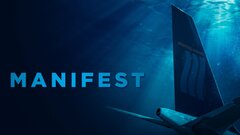 Powered by