Nat Geo WILD's 'Dead By Dawn' Promises to Be TV's Wildest Horror Show Yet (VIDEO)
Step aside, Rick Grimes. The folks behind The Walking Dead are turning to four-legged heroes for their latest foray into the scary world. And this time, it's all real.
National Geographic WILD has partnered with Skybound Entertainment, the company formed by TWD creator Robert Kirkman, to produce Dead By Dawn, a six-part series about what sort of terrors lurk in the animal kingdom after the sun goes down.
See Also
Margulies' show reunites her with some of 'The Good Wife' team.
Shot like a high-end horror movie and pumping with lush, ominous scores, each chilling episode of Dead will focus on different locales — including Indonesia, Costa Rica and one of our own sinister swamp regions — where nocturnal denizens must kill or be killed to survive the night. It's like The Purge: Animal Kingdom.
And trust us, you will never look at some of these critters the same…or want to walk through the woods without a lot of sunlight again.
The first-of-its-kind horror hybrid is set to premiere January 2019 in 140 countries and in 38 languages. Although we're pretty sure everyone's screams will sound the same.
Get an exclusive look below:
Dead By Dawn, Series Premiere, January 2019, National Geographic WILD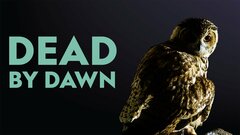 Powered by