Jerry Springer Returning to TV in New Courtroom Series
There were rumors Jerry Springer may be hanging up his microphone for good when news broke in June that production on his longtime daytime series, The Jerry Springer Show, was ending.
But indeed, those were just rumors, as the 74-year-old is reportedly working with NBCUniversal to develop an another syndicated daytime show, a courtroom series called Judge Jerry.
See Also
It was revealed this week that production on the long-running talk show has ceased.
Move over Judge Judy, Springer, who is a former lawyer, will also be presiding over small-claims cases. He'll be wearing a robe and sitting behind a desk, according to The Wrap, and there will be a rowdy live audience watching the proceedings.
The series is aiming for a Fall 2019 premiere date.
Springer's original talk show debuted in 1991, and has aired almost 4,000 episodes and 27 seasons. He told Entertainment Tonight that a deal was made with The CW to pick up new episodes, but as of right now, nothing original has been filmed.
Below is a segment from
Judge Jerry, Fall 2019, NBC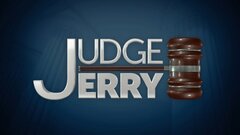 Powered by