'Jerry Springer' Production Ending — 5 Iconic Moments From the Show (VIDEO)
Jerry Springer has shuttered production on his iconic television series, The Jerry Springer Show, after 4,000 episodes and 27 seasons.
The AP reported the news that NBC Universal is not currently making any new episodes of the series, which debuted in 1991, but in an interview with Entertainment Tonight, Springer set the record straight.
He revealed, "A deal has been made with The CW and so our show will be on in most cities twice a day. It will be mostly from the shows we've done, so every once in a while you'll be seeing shows where I look a lot younger."
So fans who need still their expletive-filled rants, paternity tests, cheating scandals, and catfights need not worry.
"The show as I understand it will be on for at least another two or three years and then they'll, if it still continues to rate good, then they'll do some more," he added.
The one aspect of the show that the 74-year-old finds difficult to continue with is the pace — "Other people have come and talked about possible television projects, but I don't know that I can maintain this schedule that… has been insane for all these years."
In celebration of 27 years (and counting) on the air, let's look back on five crazy moments:
5.
4.
3.
2.
1.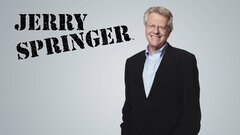 Powered by