'Big Mouth' Cast on How the 'Raunchy' Show Is 'Bigger Than Just Comedy' (VIDEO)
Netflix's animated comedy series Big Mouth doesn't hold back on any topic… we're talking raging hormones, sex, and puberty, just to name a few.
At 2018 New York Comic Con, some of the cast — Nick Kroll (Nick Birch), Jenny Slate (Missy), Jason Mantzoukas (Jay), Fred Armisen (Elliot Birch), and Jessi Klein (Jessi) — sat down with senior writer Damian Holbrook and spoke about why this "raunchy" show works.
"It's a very funny, filthy, dirty show but there are some really honest themes and discussions happening that are much bigger than just the comedy," said executive producer Kroll, who, in addition to Nick, voices a number of other characters like Hormone Monster and Coach Steve.
If you haven't started watching yet, now is the time — the series really outdoes itself in its second season. Look out for an episode about Planned Parenthood, a Bachelor-inspired episode about contraception, and one focusing on divorce. Season 2 is available on Netflix now!
Watch the rest of the interview below:
Big Mouth, Season 2, Streaming, Netflix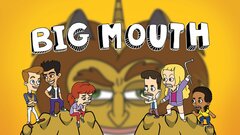 Powered by