'Counterpart' Season 2 Trailer: Two Worlds, Two Howards! (VIDEO)
Howard Silk and Howard Silk are back for the second season of Starz's sci-fi thriller, Counterpart.
After a successful first season, in which Oscar-winner J.K. Simmons gave a tour-de-force performance as two different versions of the same man, the 10-episode sophomore season premieres Sunday, December 9 at 9/8c on Starz. The dual universes don't seem to have gotten any less complicated based on the Season 2 trailer, which we're premiering exclusively on TV Insider.
Besides returning cast members Olivia Williams (Emily Silk), Harry Lloyd (Peter Quayle), Nicholas Pinnock (Ian Shaw) Nazanin Boniadi (Clare Quayle), and Sara Serraiocco (Baldwin), new cast members include Betty Gabriel (Get Out, Westworld) as Naya Temple and Emmy-winning actor James Cromwell in the recurring role of Yanek.
In the second season, the crossing between the two universes has been closed and each Howard is trapped in the other's world, where they have to adapt to survive. Howard Prime goes about his job and lives in his home with wife Emily (who is aware this is not the same Howard she married) while Howard Alpha is locked in a mysterious black site (called Echo) and is cut off from everyone he knows. In both of these different worlds, each Howard begins to become more and more like their other.
Besides the second season trailer below, Starz also released the season two key art for the series:
Check out the season two trailer here:
Counterpart, Season 2 Premiere, Sunday, December 9, 9/8c, STARZ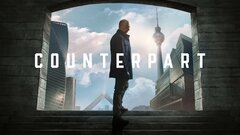 Powered by