Gladys Knight's Aretha Tribute & More Buzzed-About 2018 AMA Moments
Today's top musical talents showed up to perform at and celebrate the 2018 American Music Awards, and the annual awards show continued its tradition of wowing viewers.
For some, it was a first-time event while others made AMAs history — we're looking at you, Taylor Swift — but regardless of the winners or losers, it was a night music fans could enjoy, thanks to some must-see TV moments.
Below we're breaking down some of night's buzziest moments, from big wins to downright hilarious antics.
See Also
Taylor Swift performed and broke the record for most wins by a female artist.
Taylor Swift Becomes the Most Decorated AMA Female Artist
Will I ever get over @taylorswift13's epic #AMAs performance? Probably not. #TaylorSwiftAMAs pic.twitter.com/jFBrXQxJm3

— American Music Awards (@AMAs) October 10, 2018
And She Gets Bleeped on Live TV
OMG the giggle, the snarl, the sass, the pyro, and KARYN! Straight perfection! How dare they bleep her 🔥 pic.twitter.com/uhKoElkZms

— Nikki Swiftie (@SprksFly4Taylor) October 10, 2018
Cardi B's "I Like It" Performance
Single Parents' Taran Killam's Reaction to Cardi B's Performance
Best reaction of the night goes to @TaranKillam 😂 #AMAs pic.twitter.com/BI9AH4kWyS

— American Music Awards (@AMAs) October 10, 2018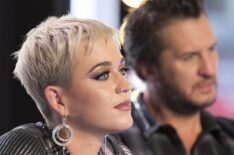 See Also
The judge had an awkward audition exchange with a Swift fan.
Panic! at the Disco's "Bohemian Rhapsody" Performance
Host Tracee Ellis Ross' Opening Performance & Support of Black Designers
#AMAs, hope you were dancing! Your host @TraceeEllisRoss got all the right moves 🎉 pic.twitter.com/N3XvcBW65x

— American Music Awards (@AMAs) October 10, 2018
Gladys Knight's Aretha Franklin Tribute
Aretha Franklin's granddaughter Victoria watched Gladys Knight pay tribute to her grandmother with "Amazing Grace" on the #AMAs 😭❤️. #AMAsOn2 pic.twitter.com/RowQOX4AqK

— WSB-TV (@wsbtv) October 10, 2018
XXXTentacion's Family Accepts His Posthumous Award
.@xxxtentacion's family accepts his award for Favorite Album – Soul/R&B at the #AMAs. pic.twitter.com/bAVzqfV9Gd

— American Music Awards (@AMAs) October 10, 2018
The Stars Encourage Viewers to Vote on Election Day
.@billyeichner makes a passionate plea for millennials to register to vote during the #AMAs. 👏 pic.twitter.com/AjCvrqmlDQ

— Entertainment Tonight (@etnow) October 10, 2018