'The Boys' at NYCC: Simon Pegg's Panel Surprise, 'Depraved' Superheroes & Changes From the Comics
The cavernous Hammerstein Ballroom erupted in cheers when Simon Pegg strolled across the stage joining the New York Comic Con 2018 panel for The Boys.
It's widely known amongst fans of the comic book — which follows the titular outmatched human vigilantes seeking to expose and dispatch a gang of superheroes known as The Seven — that everyman character Hughie was drawn by artist Darick Robertson to look exactly like the Star Trek actor.
"When DC Comics learned about this, they wrote very politely saying, 'If you sign this, you can't sue us," Pegg explained to TV Insider at the event. "But as a big comic fan, I was really flattered and thrilled." So much so, he wrote the forward for the first trade collection of the comic book.
See Also
And it's very comic-book accurate.
Pegg and the comic's creator, Garth Ennis, had first talked about his playing Hughie about 10 years earlier, should a movie — he read a feature script that was never made — or TV show developed. But as he told us, "Time had passed and, though Hughie could be any age, it seems right that he's played by a young man. When Hughie was cast-with the wonderful Jack Quaid, they got in contact about my doing something and decided that I play [a new character] Hughie's father, which is what I was hoping. So we were simpatico."
Pegg's casting was "a closely-guarded secret," he added, kept since he showed up on the Toronto set back in June. He'll appear in several episodes. "It's been in my life for so long, it would have been weird not to be part of it."
Amazon clearly believes its due time to subvert the prevailing vision of superheroes in pop culture. If the level of excitement in the audience and among the cast on stage was any sign, fans of The Boys agree. (The sneak peek clip shown was pretty funny, adding to the approval.)
On stage were producers Eric Kripke (Supernatural) and Evan Goldberg (Preacher) — Seth Rogen, also an executive producer, was absent — and most of the cast: Quaid, Antony Starr (the former Banshee star was almost unrecognizable as a bleached blonde and mostly stayed in character as flamboyantly superior and dismissive), Erin Moriarity, Chace Crawford, Karl Urban (who described the supposed heroes as "corrupt and deviant"), Laz Alonzo, and Karen Fukuhara.
When the show opens, the superheroes are beloved by all, with the exception of The Boys, a group loosely connected to the CIA and dedicated to destroying The Seven. "They are David against Goliath," said Quaid to reporters in the press room. "It's a group of ordinary working-class people who want to take down the elite and have fun doing it," added Urban, who plays the de facto leader Billy the Butcher.
Fun, the cast explained, that includes creative methods of mayhem. The show will be saturated with plenty of the sex and violence of the comics but there are limits, even for Amazon. While super-powered sex including orgies passed muster, pedophilia was given thumbs down.
"It's a realistic vision of what people with powers would be," a passionate Urban argued. "Super-powered beings would not necessarily be morally centered and altruistic. Nobody is going to scoop down and save this world. We have to take care of ourselves."
See Also
These were just a few of the surprises announced by the producers and cast about the Amazon Prime Video series, returning today.
There are other changes from the comics. The Boys are not injected with a potion that gives them super powers but remain vulnerable humans. "Female," played by Fukuhara, has been given a name for the first time, something that the producers thought important to humanize the only woman among the vigilantes. She still doesn't talk and keeps her compulsion to kill, however.
Comparing the depth of the characters to those in The Wire and Boardwalk Empire, Alonso (Mother's Milk) proudly described the superhero show to reporters as "something brand new. It's a character driven show with f-upped s**t that happens." Goldberg promised that the show will be "easier to relate to than Preacher."
For his producing partner Kripke, it's all about metaphor. "The superhero metaphor works for certain politicians, certain celebrities ,and certain athletes. Our fictional world reflects the way of the world much more now than when Garth first wrote it. We want to make the most topical show on television, but it's also fun with great characters."
The comic's fans need not worry too much about whitewashing the story. "The core of the show is still the same," says Urban. "We're still depraved." As Goldberg puts it: "This is not a Marvel or DC world."
The Boys, Series Premiere, 2019, Amazon Prime Video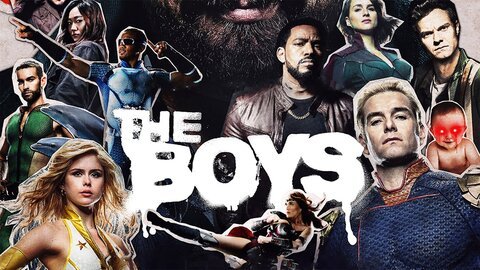 Powered by