'Family Guy' Season Premiere: Brian Dates a Sick Woman…and Becomes a Chick Magnet (VIDEO)
What is about dating a terminally ill girl that suddenly gets Brian some major action from other women?
That's the compelling question brought up in "Married With Cancer," Sunday's Season 17 premiere of Fox's animated series, Family Guy. In the two-part episode (concluding Oct. 7), talking dog Brian Griffin (Seth MacFarlane) meets and begin dating a woman named Jess (voiced by guest star Casey Wilson from Happy Endings fame).
One hitch – Jess is terminally ill with cancer and her prognosis is not good. Given the episode is called "Married With Cancer," it's no huge spoiler that Brian proposes marriage to Jess.
Also, to get a preview of the entire season, executive producers Rich Appel and Alec Sulkin talked to TV Insider and laid out what we'll see as well as what comes first – the guest star or the role for the guest star.
What are the biggest challenges that you all face in making the show these days?
Rich Appel and Alec Sulkin: The challenges for season 16 are exactly the same as they were in season 1: be funny and original. We've now done more than 300 episodes, some of which actually were funny and original, so our challenge today is only to repeat those.
What is the biggest challenge facing the Griffins this season?
The biggest challenge facing the Griffins in the new season comes when they learn — from Seth MacFarlane, Alex Borstein, Mila Kunis and Seth Green — that they are not, in fact, real. The news that they may not in fact exist hits them, as you might imagine, pretty hard.
See Also
Get all the details.
Is there any way to top having God appear in the finale?
Happily, God is a recurring character on Family Guy. There aren't a lot of shows that can say that. We don't think he watches, but still.
What comes first? The guest star or the role for the guest star?
In 95% of the cases, we write the guest role before casting a guest star. With a couple real-life figures (Rob Gronkowski, for instance), we knew we wanted to write an episode around them. And in the upcoming season, we had something particular in mind for Sarah Paulson — hint: Peter was married before — and we wouldn't have written the role without first checking if she was game. Happily, she was.
See Also
All of that and more Season 17 spoilers revealed at Comic-Con.
Exploring bigger questions of life creep into the show – any larger than usual subjects coming.
This season, in a two-part episode, Peter Griffin moves the family to Washington, D.C., so he can work for President Trump. And in the episode, Peter will literally tackle Donald Trump — and a few issues along the way.
Any notable cultural phenomena going to pop up on the show this season?
Family Guy always tries to address a few cultural phenomena. This season, Lois will take to heart the trend in de-cluttering your life as a path towards spiritual fulfillment. Unfortunately for Peter and the kids, they, too, prove to be unwanted clutter. And Quagmire will confront the growing trend of grown children discovering their biological parents when he discovers he's got a daughter — who's played by Mandy Moore.
_____________
In this exclusive clip from the season premiere, Brian and Jess are on a date but when Jess excuses herself, Brian suddenly gets some surprising attention from some women who find him hot for dating a terminal woman. Check it out here:
Family Guy, Sundays, 9/8c, Fox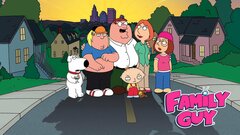 Powered by