Melissa Joan Hart & Sean Astin to Headline Netflix Sitcom 'No Good Nick'
It's going to be an even Fuller house over at Netflix with its latest multi-camera comedy series, No Good Nick.
The streaming service has given the Melissa Joan Hart and Sean Astin-headlining series a 20-episode order. Melissa & Joey's Hart will bring some TGIF comedy cred to the new show alongside Netflix's returning star Astin, who made a splash on the streaming service as Bob in Stranger Things 2.
See Also
The projects hails from 'Revenge' creator Mike Kelley & Robert Zemeckis.
Created by Miss Dial's David H. Steinberg and Keetgi Kogan, No Good Nick tells the story of a 13-year-old Nick (a nickname for Nicole) played by Siena Agudong (Star Falls, Alex & Me). Nick is taken in by a normal family, consisting of competitive mom Liz (Hart) and goofy dad Ed (Astin). The only catch? They don't realize she's a street-smart con artist!
The Fosters' Kalama Epstein and Liv & Maddie's Lauren Lindsey Donzis also co-star in the family sitcom, which has already begun production. It isn't all laughs, though — drama lurks as there may be more to Nick than what's seen.
The series will be directed by Andy Fickman, who has worked on shows like Kevin Can Wait and Liv & Maddie.
"Melissa Joan Hart and Sean Astin are beloved by millions of fans around the world, and we are delighted to bring them together as parents for the very first time," VP of Kids and Family at Netflix, Melissa Cobb said in a statement. "We hope to entertain kids and families with heart, mystery, and a lot of fun when No Good Nick comes to Netflix."
It's sure to be a laughing good time so keep an eye out for more details on this upcoming series.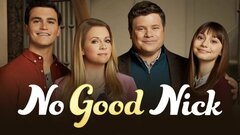 Powered by