Christina Pickles on Winning Her First Emmy at 83, 'St. Elsewhere' & 'Friends' Memories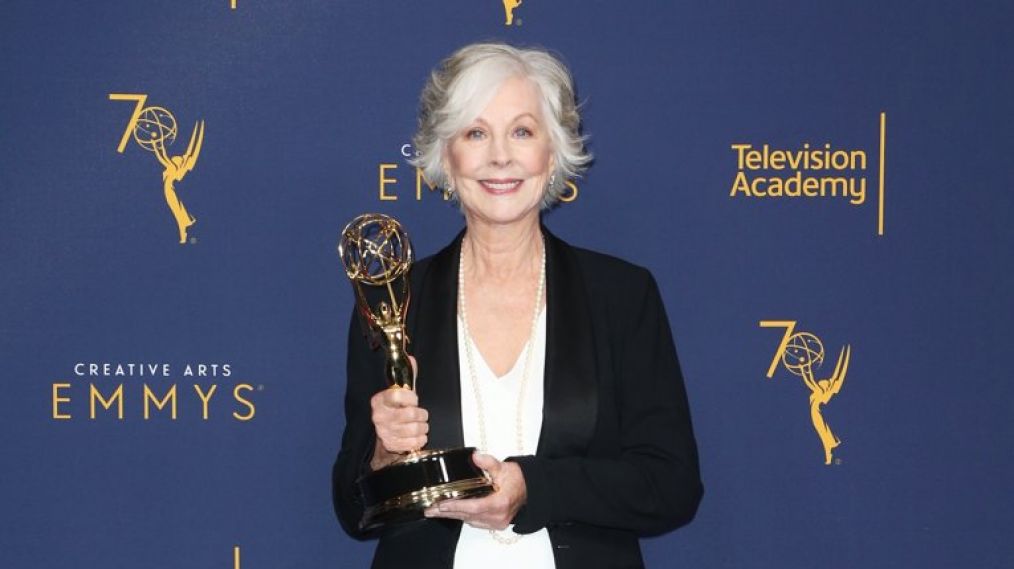 After her lucky number seventh nomination Christina Pickles finally took home her first Primetime Emmy Award for Outstanding Actress in a Short Form Comedy or Drama Series at last week's Creative Arts Emmy ceremony.
The 83-year-old star won based on work playing the lead role of Biz Brantly on the web series Break a Hip. The native Brit was nominated in the past for St. Elsewhere on five occasions for Nurse Helen Rosenthal on the 1980s drama St. Elsewhere. Then 23 years ago, Pickles received a nod for her portrayal of Ross and Monica's mom Judy Geller on Friends.
"I was shocked," she said, reliving the moment the streak of losses ended at the Creative Arts Emmy award ceremony earlier this month.
See Also
Anthony Bourdain won six posthumous awards for 'Parts Unknown.'
"I've sat in an audience six times with my little speech, which I've never gotten to give. I was used to being rejected. This time I wasn't. To hear my name I thought, 'Oh God, am I imagining this?' Cameron [Watson], our writer/director/producer, turned to me and said, 'You won!' I leapt to my feet and went up on stage. I was very, very happy."
At the center of Break a Hip is Biz, the often-crabby veteran actress who hires 20-something acting newbie Wincy (Britt Hennemuth) to work for her. The generational gap brings laughs, but in the end, there is an unlikely bond that forms between the two. Pickles attributes much of the Emmy to the writing on the show.
"Everything begins and ends with the writing. The words you get to say, and if you have enough of them. If it's fun and exciting and the writing is good, then you have a big chance," she said. "If it's not, you have no chance. The writing on St. Elsewhere was wonderful, but they never really wrote the script for me really. One that people can sit and look and see it was all about her. It wasn't. I was the head nurse at the hospital, but it wasn't all about me.
"People say age is just a number, but that is kind of ridiculous. If you're old, you're old. I'm old, but I'm funny. And if you're funny, you can do a lot. I play a funny, cranky old lady. I'm right for it. So, if the script is there and they write something for an old person, that old person will show up. It's all about the writers. It's not about the actors."
Sprinkled in the first two seasons are A-list guest stars including a pair of Academy Award winners. Pickles enjoys when new talented faces come on set.
"Because we're doing this series in Hollywood, actors don't work all the time, every single day when they are in the middle of a movie. We were terribly lucky in being able to get Allison Janney on her day off. We also got Octavia Spencer and Priscilla Barnes when they weren't working," she said.
"I think they were amazingly wonderful in it as all the young people who aren't famous yet. But they are very funny and good. That's what I like about the show because it's not just about an old woman. It's about a young man and his friends and their world as it meets my world."
Pickles likes the open creative collaboration between herself, also a producer, and Watson. They are a sounding board for each other. She describes the freedom as a dream come true. The hope is to build on the award buzz and awareness of the show with a season three.
See Also
Find out which nominees may walk home with a statue on September 17.
"I would love to do four, five, six, seven. As many as we can do," Pickles said. "We have some wonderful storylines. One of them hasn't been written but is an idea is that Biz and Wincy move in together because they have to financially. Then this offshoot of the odd couple."
The landscape of Hollywood is far different than when Pickles initially entered the business. However, she has managed to change with the times thanks to digital projects such as Break a Hip.
"This started because I told Cameron one day when we were having lunch that we have to do a web series," Pickles said. "He said, 'Yes, we do.' Then he went home and wrote it. We were able to do it by raising money, $22,000 for the first nine episodes. We shot it in nine days.
"The second season we raised $16,000 and shot it again in nine days. If you look at any of it, you'd see the quality of it is like a movie. It's wonderful. We're so lucky because the crew and the cinematographer wanted to do this show for no money. They loved it that much. People loved the writing."
Moving forward the hope is to add more financial backing that would allow cast and crew to work on the show with more ease.
"Or even move it from the internet into a studio situation," she added. "I don't think that will happen for another season. We have to take a big breath and do season three. Then I think the history of web series being moved is pretty much after season three. I think we will be because the story does resonate with people. I think it can be a 30-minute show as long as they don't change the heart of the show. There is a lot of heart there."
With TV credits going all the way back to the 1970s soaps Guiding Light and Another World, Pickles is appreciative for every quality opportunity that comes her way at this stage in the game. She also remains grateful for the journey thus far.
"Matthew Perry and I were sitting for one of the scenes. I think it was a wedding reception or something. There were a lot of people and tables. He happened to be sitting next to me for the scene. At one point he said to me, 'You know you're very lucky. You've been in two of the greatest hits on television,'" Pickles recalled.
"And it's true. St. Elsewhere was highly regarded and Friends is a miracle that goes on. It's on now. I was very lucky. There were long periods in between where I wasn't so lucky, but I've had fabulous chances to have a good time."
This year marks 30 years since St. Elsewhere left the airwaves. Friends is as popular as ever in syndication and streaming. Will we ever see a revival of either? Pickles doesn't think so.
"They were so perfect, I wouldn't want to mess with them," she said. "I think those kids have moved on. I don't think they will do another one. They'll do Break a Hip instead."
On her new golden statue, Pickles has a special place in her home for the Emmy.
"It's on the mantlepiece in front of a mirror so she can look at herself," she said.
Break a Hip is available at www.breakahip.com.
A taped broadcast with highlights from the Creative Arts Emmy Awards ceremony airs Saturday, September 15, at 8/7c on FXX.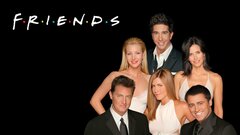 Friends
where to stream
Powered by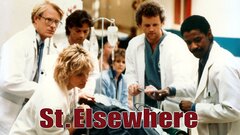 Powered by