Will Marlena's Daughter Belle Pull the Plug on Her on 'Days of Our Lives'? Martha Madison Sounds Off
Belle Black (Martha Madison) is back in Salem and she's facing the toughest decision she's ever had to make in life!
Her mom, Marlena (Deidre Hall), is on life support (thanks, Sami!) and we've learned that Belle, a level-headed lawyer, is the executor of her mom's DNR (Do Not Resuscitate). Torn between honoring her mom's wishes and not wanting to lose her, Madison's doing the best work of her career.
Read on to get the actress' thoughts on this story and learn why it hits close to home.
Belle's return has turned out to be so much more than waving hello at a wedding.
Martha Madison: Yes. When I got the call to come back I thought that I was, as you say, coming back for a wave at the wedding of John (Drake Hogestyn) and Marlena. Then, I found out the show was planning much more that. I'd been tangling with Sami (Alison Sweeney) on my last trip back, but then Albert Alaar (co-executive producer/director) pulled me aside and said, 'You have this great story coming up.' He told me it would be about Marlena having a DNR. I got really excited about it. It's such an important story.
Soaps used to tell more topical stories like this.
I agree. Back in the day, the soaps I watched were known for telling stories based in humanity and social issues. While this may not be a typical social issue it's certainly an important issue. Families deal with the end of their parents' lives. We go through the circle of life and there's a lot of relatable story in this.
What's Belle's position in this as both a daughter and a lawyer?
Belle's stance is that we have to honor Mom's wishes. She's also the executor of the DNR. By law, she has no choice. She's dealing with both a legal issue and a family issue. She knows her mother chose her for a reason. She knows Belle could make the decision that no one else would make.
How does Belle "the daughter" feel?
She's heart-broken. Nobody wants to lose a parent especially under sudden and terrible circumstances. The last thing she wants is to discipline her father or start disagreements with her siblings. She takes it very seriously that her mother has trusted her with this important decision.
Why did Marlena choose Belle to be in charge?
She's an attorney and she's much more level-headed than Sami. This is about taking care of her family. You'll see Belle's own internal conflict as this story progresses.
You've spoken before about your own mother's health issues. [Editor's Note: Madison's mother, Barbara, suffers from frontal temporal dementia and lives in a hospice facility in Texas.] Has this story hit home for you?
It's really powerful and is a personal, relatable story. My mom [in real life] has been very sick for a long time. My sisters and I haven't always agreed upon a course of action. I can definitely understand the fundamental conversations that are happening. That was help to me as an actor in this story.
Do you know if the writers know about your personal connection to this story?
I don't. It seems all very coincidental, but I was happy to do it. I was happy that it was me who got to do it. It's been a great outlet for me. It's why a lot of actors get into this industry. I'm not sure if this was done on purpose, but, again, I'm glad that it happened. And I'm grateful to Ron [Carlivati, head writer] and his writers that they trusted me to do this.
Had you ever worked with TV siblings Ali Sweeney (Sami) and Greg Vaughan (Eric) before at the same time?
Somebody tweeted a photo of the three of us asking, 'Can we get more of this?' or something like that. I think this is the first time we've ever all worked together at the same time. It kind of blows my mind.
Was Deidre Hall (Marlena) in all the hospital room scenes or did they just drop in some shots of her in the coma?
She was there for all of this. I don't think I could have kept a straight face the way she did.
How was Drake in all this?
He's so good. We had some really powerful scenes in all this. We both walked away from them thinking this is special. He was so powerful in these scenes. You really have to allow yourself to be vulnerable in stories like this and he just gave and gave and gave. He's so good. Maybe next year he'll get his name on the Emmy ballot? I think he could bring it home.
In the latest #DAYS, John finds Marlena in crisis as Valerie tries to save her life.https://t.co/ZsCmioRrzb pic.twitter.com/XmW9kBK4Vo

— Days of our Lives (@nbcdays) September 7, 2018
What's Shawn's (Brandon Beemer) role in all this?
To be honest, during this trip back he's more involved with Hope [Kristian Alfonso]. We didn't work together all that much. I went off into Belle's story. He went off into Shawn's. I do think there are more Shawn and Belle stories to tell. I hope they are told.
You've got a job outside of all this, live in Texas, and have a young daughter, and you commute to and from Los Angeles for DAYS? How?
[Laughs] None of this would be possible without my husband A.J.'s very devoted support. We're lucky in that we both work from home. I work in recruiting. He works in technology. When I've gotten to leave to come and do Days, he's been both dad and mom, provider and hairdresser. He's really good with [our daughter] Charley. Face Time helps. She and I talk that way when I'm in L.A. She's getting older and she understands.
You two are able to talk more now, like full conversations?
[Laughs] Charley's been having conversations since she was nine months old! This kid talks more than anyone I know! It's a constant stream of consciousness.
If a BIG cast change were happening, I think it would have gotten out on social media. Has social media been a help or a hindrance to soaps?
Sometimes whether on purpose or by accident things will get out. Social media can spread news like wildfire. Viewers can know what's coming, but they still haven't seen the show or experienced it. It's up to the writers and actors to deliver what's been teased on social media. Even if you know the ending to a movie you still go to see it because you want to feel it. You can only feel it by watching it.
Did you work with anyone this time around whom you'd never worked with in the past?
Yes. I had a great scenes with Greg. He's such a pro. I wanted to bring an energy to match his. I have so much respect for him. He definitely earned that Emmy.
There can be dark humor in life's most dramatic moments. Will we see any here?
Later on, there's a twist in the story. I think it provides some moments of dark humor. The writers have written this story from beginning to end with every emotion in mind.
You live in Texas now. Are you pursuing whatever opportunities may be there for acting?
I'm not exploring Texas that way right now, but I did just sign with a [talent] agency in Atlanta. It's nice. I'm in the middle of a lot of places. I can be most anywhere in the country in two to three hours. I'm interested in working as much as I can.
What's the best part of coming back to Days and for this story in particular?
It has been just great. It's been a chance for me to stretch myself again and I feel like I was able to do something that could connect with the audience. Having families be together on the show is a good idea. I'm happy about that and I want to thank Ken [Corday, executive producer] and everyone for having me back.
Days of Our Lives, weekdays, NBC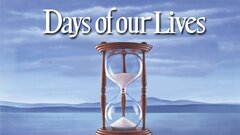 Powered by