Tastemakers: Andrew Zimmern Reveals What's Different About New Show 'Big Food Truck Tip'
For chef, writer and longtime TV host Andrew Zimmern, his initials sum up his approach to food: He tries it all — A to Z and everything in between.
On Big Food Truck Tip, he travels the country sampling kitchen-on-wheels fare, awarding a $10,000 prize each episode. The onetime owner of a rolling restaurant called AZ Canteen serves up more details.
What's different about this food truck show?
Andrew Zimmern: Food is good, and food with a story is better! This series allows the stories of truckers to come to life. You can't help but be touched.
Who are some of the people you meet?
A church father in Birmingham, Alabama, who helps feed the hungry and gives away 20 percent of his meals. A single mom in Minneapolis who operates a truck in honor of her deceased father. A young married couple in Charleston, South Carolina, who got into this so they could spend time together as they start their family, with the wife slaving away at seven months pregnant.
Did any new dishes blow your mind?
In Huntington Beach, California, we came across a young pair of friends with a dumpling truck. They did a fried chicken dumpling that was rolled in cornflake meal to make a crispy, crunchy layer on the outside. Absolutely fantastic!
How do truckers earn the $10,000?
Quality of food and how the trucker has fulfilled their potential—that includes their personal story and marketplace experience. They're not competing directly against each other.
What can they do with the money?
It's life-changing! The profit on a food truck is single-digit percentage points. Bad weather or fierce competition cut into your profit, which is also eaten up by gas. Now they can buy a new oven or grill without saving for a year. Any lessons for a home cook from a trucker? Bring a sense of playfulness and experimentation into the kitchen. And know that if someone can do this on a truck, anyone can do it at home.
Big Food Truck Tip, Series Premiere Wednesday, Sept. 19, 10/9c, Food Network
Firecracker Shrimp with Blue Cheese Dressing
"This has contrast in flavor, temperature, texture," Zimmern says of firecracker shrimp, which he served in his AZ Canteen days.
Serves 6
Dressing Ingredients
1⁄3 cup mayonnaise
1⁄3 cup sour cream
3 tablespoons red wine vinegar
1 tablespoon finely chopped dill
1 teaspoon Worcestershire sauce
1⁄4 pound blue cheese
Salt and pepper
Firecracker shrimp ingredients
1 large egg
1⁄4 cup buttermilk
13⁄4 pounds shelled and deveined large shrimp,
tails intact
Vegetable oil, for frying
1 cup cornstarch
Salt
1⁄4 cup hot sauce
4 tablespoons unsalted butter, melted
Celery sticks, for serving
Directions:
For the dressing: In a food processor, combine everything except salt and pepper and puree until nearly smooth. Scrape into a medium bowl and season with salt and pepper.
For the shrimp: In a large bowl, beat the egg with buttermilk. Add shrimp and toss to coat. Cover and refrigerate for 1 hour. In a large saucepan, heat 11⁄2 inches of vegetable oil to 375°. Line a large baking sheet with paper towels. Spread cornstarch in a shallow bowl. In three batches, remove shrimp from buttermilk mixture, allowing excess to drip off, and dredge in cornstarch. Add shrimp to the hot oil and fry over high heat, turning occasionally, until golden and just cooked through, about 4 minutes. Using a slotted spoon, transfer shrimp to baking sheet and season with salt. In a large bowl, whisk hot sauce with melted butter. Add the fried shrimp and toss well. Transfer to a platter and serve right away with the blue cheese dressing and celery sticks.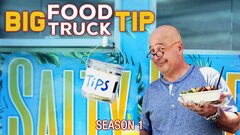 Powered by